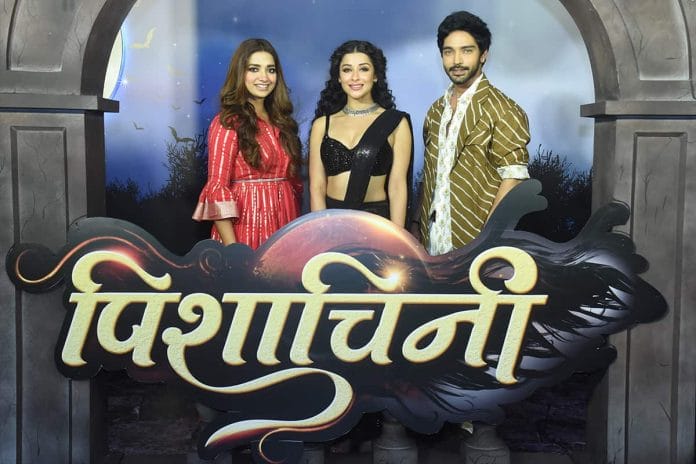 Pishachini 27th October 2022 Written Update on TellyExpress.com
The episode starts with Rani saying that at last she's going to win over Pavitra. She looks at the hay in which a green-colored orbit is placed. Rani says that she is waiting for him eagerly and he will make her more powerful than Maha Pishachini, the Swabini of all the evil power in the world. She looks at the green orbit and says that her child is going to come soon.
The Rajputs receive a big box for Shikha. The family members are curious to know what's inside that parcel. Rocky starts to open it. Suddenly, the box starts to move, which scares them. A man comes out of the box holding a teddy. Rocky asks who he is. Just then, Shikha shouts Veer from the balcony. Veer smiles, looking at Shikha. Veer introduces himself to the family. He says that he was packing the gift for Shikha and he fell inside accidentally. The family smiles hearing his story. Shikha comes running to Veer. She asks Veer if the teddy is for her. Veer gives the teddy to Shikha, wishing her a happy Diwali. Shikha thanks Veer for coming. She introduces Veer to his family. Rocky teases Veer.
Vidya asks Veer if she can call him professor Veer. The latter agrees. Bubli says that Veer looks so young that he doesn't like a professor, but a student. Veer says that he got a double promotion in school, so he completed his Ph.D in his twenties. The family welcomes Veer inside the house. Veer stands at the doorstep hesitating to enter it. The family members ask him to come in. Veer goes inside. Pavitra remembers that in grandfather's notes it's written that a pishach can enter any house when its members call him inside three times. She recalls Veer entering the house after Shika, Bubli and Sapna asking Veer to come inside. She gets suspicious.
Later, Pavitra shares her doubts about Veer with Rocky. But Rocky says that Veer is shy. He didn't even take a sip of tea while they were all having tea. Pavitra says that it's weird. Rocky says that Pavitra doubts everyone and reminds her how she had an opinion about him in the beginning. Rocky further says that Shikha loves Veer very much and Veer is her first love, so they should support their love. He says that they should worry about Sanchit instead. He says that they should free Sanchit from Rani's spell. Pavitra says that Vidya got an email from the anonymous writer in which he explained how they can release a person who is under Pishachini's spell. Rocky asks if it's possible to do with Rani's presence. Pavitra says that she has a plan for it.
Shikha becomes happy when Veer says that he likes her. She says that in her family, they play games on the occasion of Diwali. She asks him to join them. Veer says that he forgot his phone and will join her later. Shikha leaves. Veer watches the family preparing to play a game. His eyes turn blue. He says that he will play the game to execute his place. He says that his target is there. Pavitra explains the blindfold game. Rocky blindfolds Pavitra. They all spread out. Veer comes there. The family becomes silent. Pavitra touches Veer. Pavitra's mark on her palm shines and she feels weird.
Veer also feels a jolt. Pavitra removes the blindfold and finds Veer. She wonders why she felt weird about touching him. Veer is asked to sing a song as punishment. He obliges. Vidya takes the chit and says that now Rani should be blindfolded. They all spread out again. Rani is trying to catch them. She thinks that Pavitra is playing some game. Meanwhile, Rocky takes Sanchit to the temple to hide. Rani hears this and goes near the temple, but she is unable to enter it. Pavitra asks Vidya to keep Rani busy. She goes to find Rocky and Sanchit.
The episode ends.
The episode starts with Rocky asking Pavitra why she stopped him from telling Rani's truth to the family. Pavitra says that it's written in her grandfather's note that there is a lot of negative energy inside Pishachini and she spreads negative emotions around her using her negative energy.
Pavitra says that Dadaji is with Rani and if they told the truth to the family, they both would attack the family. She says that Rani is responsible for Shikha's condition. She says that they shouldn't put the rest of their family members in danger. Rocky refuses to sit quiet and sees Rani attacking the family. Rani says that they have to find out what her intention is now, what she's up to. Meanwhile, Rani says to Maddy that Pavitra is unaware of her plan, which gives her an advantage. Maddy asks Rani why she didn't kill the Rajputs, since she successfully mixed her blood into the Rajputs' bloodline.
Click to read