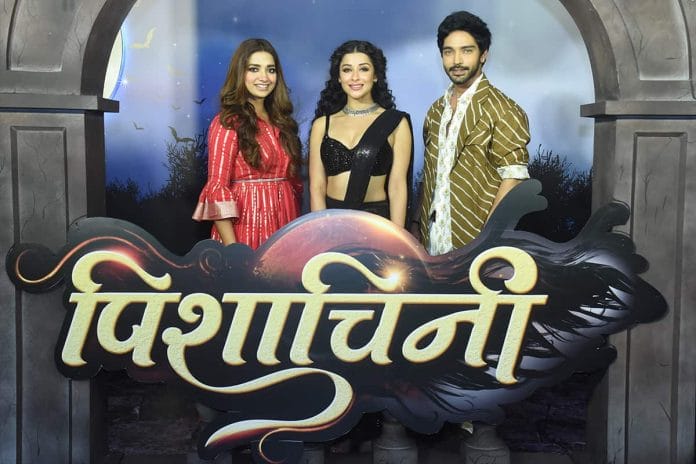 Pishachini 29th November 2022 Written Update on TellyExpress.com
The episode starts with the Rajputs mourning Sanchit's death. They all remember their moments with Sanchit while Main jahan rahoon song plays in the BG. Shikha bursts into tears. She blabbers that Sanchit died because of the Agneethal drops that fell over Sanchit. She says that she will say how it happened. Pavitra and Rocky try to stop Shikha. However, Shikha is determined to tell the truth. She mentions her past mistakes and says that she will tell the truth even if they expel her from the house after hearing this. Shikha is about to say that she is responsible for Sanchit's death. Pavitra intervenes and takes the blame on herself.
In the cave, Rani asks the Naagraaj to take her out of the cave. Naagraaj says that Rani can't go out of the cave as the cave's entrance is blocked by a Trishul. He adds that he can go out as he has the naagmani. Rani takes the naagmani from Naagraaj's throat and makes it hers. In the Rajput mansion, Pavitra holds Shikha's hand, preventing her from telling the truth. Shikha is shocked and wonders why Pavitra is saving her while she wants to kill her. Vidya couldn't believe that Pavitra could do this. Pavitra says that she dropped the extra bottle of Agneethal while taking it from the room. As she didn't where it fell, she lied to them that it was not in the room. Kanika says that Pavitra can't do this as she knows how dangerous Agneethal drops are. Pavitra apologizes and says that she made a mistake in the hurry. Sapna slaps Pavitra and blames Pavitra for snatching Sanchit from her forever. She breaks down in tears. Rocky says to Pavitra that he knows that she hasn't done it, but he doesn't understand why she's taking the blame on herself.
The Rajputs men get ready to take Sanchit's body to the crematory. Kanika asks them to wait. She says that she can sense some evil's presence and goes to check. She meets Maddy, who has come to know where Rani is. Kanika says to Maddy that Rani will never return. Just then, Rani gets out of the cave. She laughs and says that it's impossible to defeat Rani. She leaves her baby in the cave with the snakes to protect him.
The Rajputs men get ready to leave, taking Sanchit's body for the funeral rites. The Rajputs ladies are crying watching this. Just then, a girl arrives there. Sapna says Sariga. Vidya says to Pavitra that Sariga is Sanchit's best friend and they thought that they would get married, but she went to America for higher studies and lost contact. Sariga says to Sanchit's body that she's late to meet him. She says sorry and cries. She goes to stand with the Rajputs ladies. Sudhakar says that they forgot the pot. Dadaji says that he got it. Everyone is surprised to see Dadaji. Dadaji says that everyone should go through this phase one day. He chants some mantra and they leave, taking Sanchit's body.
Bubli says that it seems that she has some eye problems as she saw Dadaji. Vidya says that it was Dadaji. Pavitra wonders how Dadaji can come as he is caged. Sapna says that Dadaji came out of the cage when the rest of the family went to Agneethal and attacked them. Sapna further says that she and Sudhakar made a deal with Dadaji and asked Dadaji to become a human again. Pavitra says that it means Sudhakar and Sapna should change into… Just then, Pishach Dadaji arrives there and says that they have to become pishachs and he won't move from there till that, which shocks everyone.
The episode ends.
Click to read