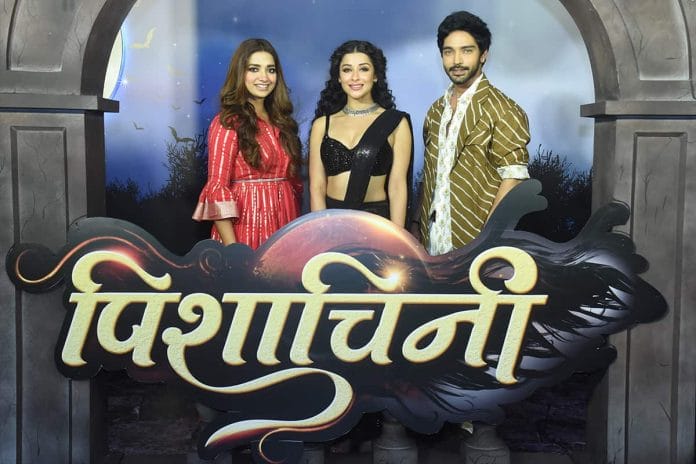 Pishachini 2nd December 2022 Written Update on TellyExpress.com
The episode starts with Rocky saying that Pavitra can't die till he's alive. Rocky reminds Pavitra that they promised each other to be together forever. He asks Pavitra to fight back. The flame torches blow off. Kanika says that true love is the most powerful thing in the world and only that can save Pavitra. Rocky hugs Pavitra tightly. Tere liye hum haihai jiye plays in the BG. Vidya places her hand on Rocky's shoulder while everyone holds each other's hands. Pavitra defrosts. The Rajput alla are elated. Sapna apologizes to Pavitra. Sapna and Bubli hug Pavitra. Sudhakar says this is the strength of true love and the victory of trust in each other. The Rajputs share a group hug. Kanika agrees with Sudhakar's words. Rocky asks where Dadaji is. He has come along with them. Sapna says that even Pishach Dadaji isn't there. She wonders where they have both gone.
In the old mansion, Dadaji and Pishach Dadaji fight. Pishach Dadaji pushes Dadaji down. He boasts that human Dadaji can't harm him. Dadaji says that he will see it. They both fight. Just then, Rocky, Pavitra and the rest of the family arrive there. Rocky gets ready to attack them with his weapon, but he is unable to identify who is Pishach and who is Dadaji. They both claim to be Dadaji. They both narrate an incident that happened with Rocky in his childhood. So, the Rajputs are unable to determine who is the real Dadaji. Pavitra says that she will find it and says the one who will complete the lines she's going to say is the real Dadaji. Pavitra chants the verses of Hanumanji's mantra and the real Dadaji completes.
The Rajputs identify that the other Dadaji is the Pishach and get ready to attack him. But Pishach starts to fight with Dadaji, so Rocky is unable to target Pishach correctly. Dadaji pushes the Pishach towards the magical tree and he gets pulled inside the tree. Dadaji asks the Rajputs to hug him. Sudhakar asks how they can be sure that he is their Dadaji. Dadaji chants Hanumanji's mantra Rocky and Sudhakar hug Dadaji. Sapna says that Sanchit died in his absence. Dadaji assures them that they will always be together and no one can break their family.
Elsewhere, Rani thanks the snakes for bringing her baby to her as she asked. She asks them to leave now. They oblige. Rani chants some mantra and draws a circle using a stick. The circle catches fire. Rani gets into the lava, taking the basket in which her baby is. At Rajput's mansion, the Rajputs are having a discussion. Pavitra says that nothing can break their family. Sapna says that, by God's grace, Rani went far away from their family. She says to Pavitra and Rocky that they did right by capturing Rani in the cave. They all leave. Rocky notices his hand and wonders how he is changing into a Zombie again. He decides not to tell Pavitra about it and worries her. In Pishach world, Rani is holding her baby in her arms and standing in front of a well. She says that she got to know a secret which can send Pavitra directly to the graveyard.
The episode ends.
Click to read