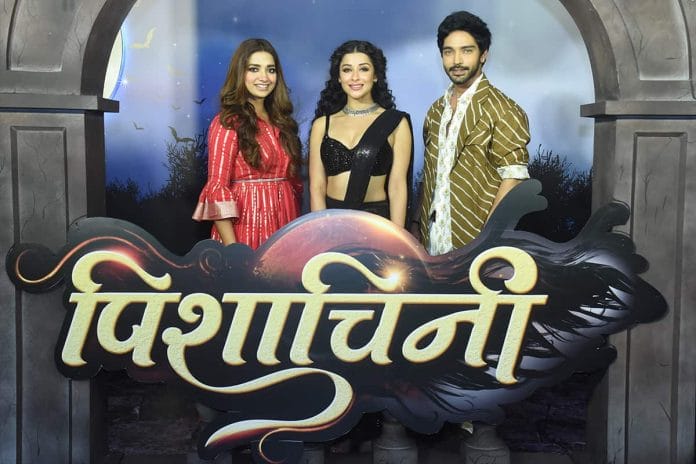 Pishachini 2nd November 2022 Written Update on TellyExpress.com
The episode starts with Sapna and Bubli trying to feed food to Rani. But the latter refuses, pretending to have the pregnancy syndrome. Just then, Pavitra arrives there. She says to Rani that she brought the house equipment home to do her test. Bubli asks what's in the big box. Pavitra says it's a sonography machine. She says that Sanchit is excited about seeing his baby. Sanchit arrives and adds that even Rani is eager to see their baby. Rani tries to avoid the test by saying that they can do it after a few months. But Sanchit urges Rani to do the test now. Sanchit takes Rani and the family to his room. Sapna and Bubli are shocked to see Sanchit's room's changed decor. Sapna asked Rani to change the room's decor to a bright color.
The doctor asks Rani to lie in bed. Rani thinks that her truth will be exposed if she does the sonography test. While Pavitra keeps Rani distracted in a sonography test, Rocky and Vidya are at the old mansion. Rocky gets ready to go into the well. He ties a rope around his hip. Vidya is worried about Rocky and tries to change his mind. But Rocky is determined. He says that thankfully they got the anonymous writer's help. He will find Rani's child while Pavitra keeps Rani busy in sonography test. Vidya is about to say something, but Rocky jumps into the well.
As the Rajputs are discussing with the doctor, Rani tries to run away. But Pavitra catches her. Pavitra forcibly makes Rani lie in the bed. Rani holds Pavitra by her neck and tries to strangulate her. Pavitra takes a surgical knife and pricks Rani with it. Rani leaves Pavitra. Just then, the doctor and the family arrive there. The family asks Pavitra what happened. Pavitra says that she was reassuring Rani, who was scared. Rani threatens Pavitra to kill the Rajputs after being exposed. On the other hand, Rocky lands inside the well. Vidya shouts, asking Rocky if he is safe. Rocky replies that he is safe and can hear her voice. Here, the doctor starts the sonography test. Rani extends her nails and gets ready to attack them. But she's shocked when the Rajputs see the baby on the machine's screen. Rani wonders how it's possible, how they can see a baby in her womb. There, Rocky finds Rani's baby, which is inside the green orbit. Here Sanchit receives a message and signs Pavitra.
After the Rajputs leave, Rani asks Pavitra how the baby can be visible in her womb when there's no baby and asks what she did. Pavitra mocks Rani, saying that she's from the older generation. Pavitra reveals that she bribed the doctor and showed someone else's baby's sonography on the screen. Rani asks Pavitra why she did this for her. Rani mocks Pavitra by calling her detective and says that she must have learned that her child isn't in her womb. Rani suspects Pavitra's intention. She urges Pavitra to tell the reason behind her drama. Pavitra says that they have the upper hand in the game she started and asks her to leave the house and barely for her betterment. She gives her a last chance. Rani laughs and mocks Pavitra for trying to make a pishachini understand. Pavitra says that she's trying to convince a mom. She says that they have reached the state where all escapes are closed for Rani. The latter realizes that Pavitra distracted her to kidnap her baby. She threatens to kill the Rajputs.
Rani teleports herself inside the well. She cries not finding her child. She teleports herself outside the well and wonders where her child is. She sees Pavitra coming there. Rani goes to Pavitra and asks where her child is. Pavitra says that she's not an enemy of her child, but she understood that she's going to do someone big using her baby. She asks her to leave and spare the Rajputs. She says that the Rajputs will think that she ran away with the baby. They will search for her for awhile, then will accept it. She says that she had already killed Pratik and Amrita and changed Dadaji into Pishach. She asks to spare the rest of the family. Rani refuses to leave. She vows to stay there and achieve her goal. She says that her child will help her with that. She says that no one can stop her, not even Pavitra. Pavitra tries to convince Rani to repent for her crimes and leave the pishach world.
Rani becomes enraged and attacks Pavitra. The latter is thrown away. Rani takes her Pishachini avatar. She shouts that she's Pishachini. The Rajputs arrive there and they're shocked to see Rani in Pishachini's avatar. Rani laughs and reminds the Rajputs of what happened 20 years back. Rani says that Pavitra tried a lot to expose her to them. Finally, her wish was fulfilled. Rani says that it's good, they all come together. She asks them to hold each other's hands and get ready to die, as they don't have any other option. Just then, she hears Rocky saying that Rani doesn't have any other option than leaving this place. Rani is shocked to see that Rocky has her child.
The episode ends.
Click to read