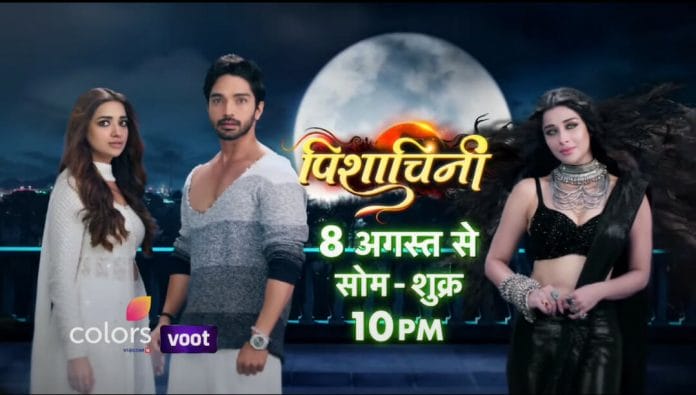 Pishachini 30th August 2022 Written Update on TellyExpress.com
The episode starts with Pavitra recalling Rocky saying that he was hypnotized and Dadaji trying to say something similar. She wonders. On the other hand, Pishachini says to Shikha that she's happy with her work and reduces the mark on Shikha's cheek. Shikha gets elated. Pishachini says that Shikha's mark will reduce when she obeys. Pishachini disappears. Shikha decides to hide her mark so that no one suspects her and finds out that she invited Pishachini inside the house. Pavitra wants to talk to Rocky, but she stops herself thinking that maybe she's finding some excuses. She says that the fact is, Rocky agreed to marry Rani. At the same time, she wondered whether she was not missing seeing something. She gets in a dilemma.
Vidya and Sanchit find Rocky not happy and think that maybe he agreed to marry Rani in a hurry, but he regrets it now. They decide to talk to Rocky about it. Shikha stops them, saying that she will talk to Rocky. Rani and Himani are making Khoya for the puja under the supervision of Suman. The latter praises Rani and Himani. Rocky comes there. Suman praises Rani for knowing how to do Khoya despite growing up in London. Rocky says that he wants to talk to Rani alone. Rocky and Rani go apart. Rani understands that Rocky wants to reject her. So she doesn't let him speak. She thanks Rocky for accepting the alliance and adds that her family and her are happy.
Rocky says sorry, the truth is… She pretends to faint. Rocky holds her. Rocky tries to speak again. But suddenly, he hears a shout for help. He goes to check. Meanwhile, Pavitra reads her grandfather's notes about Pishachini's different powers. Pavitra learns that Pishachini can add her power to any food or liquid items to kill people, make them slaves and hypnotize them. Pavitra remembers Rocky drinking the juice given by Shikha. She doubts whether Pishachini has already entered the house.
Rocky and Pishachini come to the well in the restricted area. Rocky understands that someone fell inside the well. Pishachini tries to stop Rocky, but Rocky is determined to save the person who shouts for help. He looks around for a rope. In Shikha's room, the latter is admiring her face on her phone's selfie camera. She says that her face will become prettier when the mark will vanish completely. Just then Pavitra comes there. Shikha gets agitated.
Rocky manages to find a rope and gets ready to jump inside the well. Pishachini tries to stop Rocky again by sweetly talking to him. She hugs him, giving her swear. Rocky assures her that nothing will happen to him. On the other hand, Shikha hides her cheek with her hair. Pavitra asks Shikha if the juice she gave to Rocky is different from others. Shikha assures her that it's the same juice that they all had. Pavitra thinks that it means Rocky wasn't hypnotized and he had agreed to marry Rani with his full consent. Here Pishachini uses her power and kills the boy by tightening the branches around his body. Pishachini stops Rocky from jumping into the well and tells him that they don't hear any shouts now. Rocky is surprised that it became very calm all of a sudden. Pishachini says that she can do anything for Rocky. She takes Rocky from there, saying in mind that Rocky has to marry her and no one can change this and she will kill whoever will come between them.
The episode ends.
Click to read