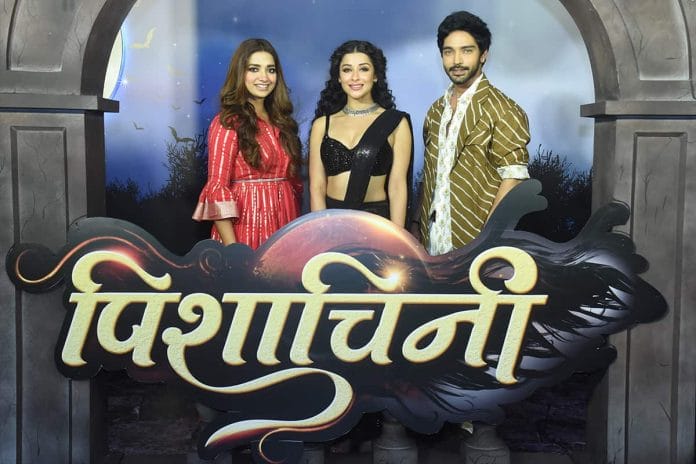 Pishachini 31st October 2022 Written Update on TellyExpress.com
The episode starts with Rocky showing the real ring to Rani and saying that the one she has is fake. Rani asks Rocky to return her ring to her. Rocky calls out to Maddy and throws it towards him. Maddy swallows it, thinking it for a candy. Rani scolds Maddy and chases him. Pavitra and Rocky see that the moon shows up in the sky. They place their hands on each other and direct the moonlight towards Sanchit. They are happy to successfully release Sanchit from Rani's spell. Sanchit wakes and realises that Rani mesmerized him and married him. He asks Rocky about the same to know if it's true. Rocky says yes. He welcomes Sanchit back and hugs him. Sanchit thanks Rocky for saving him from Rani. Rocky gives credit to Pavitra. Sanchit thanks Pavitra. Pavitra and Rocky decide to leave before Rani comes. Rocky wants to hide Sanchit from Rani's sight. But Sanchit is determined to expose Rani's truth to their family.
At the mansion, the Rajputs and Veer are playing cards. As Veer doesn't know how to play cards, Shikha explains to him. Sapna brings tea for everyone. Veer says that it's not healthy to drink tea at night time. Sudhakar says that they don't care about it. They want to be awake the whole Diwali night. Bubli's husband asks about Dadaji. Sapna says that he slept while Pavitra, Rocky and Sanchit have gone somewhere. Vidya worries about Rocky, Pavitra and Sanchit. Bubli says that Rocky-Pavitra and Sanchit-Veer are newly married couples, so they have gone out to party. She asks Shikha why Shikha and Veer didn't go with them. Shikha says that she doesn't know about their plan, else they would have gone with them. Veer objects. He says that one shouldn't go out on the night of Diwali as evil power can attack them. He says that the Diya is lighted to protect themselves from evil powers. The family is surprised to know that Veer knows about all this.
Meanwhile, Pavitra, Rocky and Sanchit are on their way to home. Sanchit tells Pavitra and Rocky how he married Rani inside the well by taking the seven upside down rounds. Pavitra and Rocky ask Sanchit if he knows about Rani's new plan. As they are talking, they notice a truck coming towards them at high speed and Rani sitting on top of it. They are shocked to see this.
At the mansion, Vidya tries to contact Pavitra and Rocky and worries about them. Veer offers sweets to Vidya. He drops a book. Vidya recognizes the book as the one she's following online. She's surprised that he also reads that book. Veer says that he bought that book at some roadside bookstall. He takes that book and leaves. Vidya realises that Veer lied to her as that book isn't available in any bookstall. She wonders why he lied to her. Here Rocky, Pavitra and Sanchit run to save themselves from Rani. Rocky and Pavitra jump on the roadside while Rani chases Sanchit sitting on the top of the truck. Pavitra and Rocky call out to Sanchit. They run after the truck. Sanchit reaches near a cliff.
Rani ties his legs together using her power. Rocky asks Pavitra to save Sanchit like the other day she defeated Rani. Pavitra says Jai Bajrang Bali and shows her palm towards the truck. The mark on her palm shines. A tree falls between Sanchit and the truck, which diverts the truck's direction. The truck falls down and explodes. Rocky hopes that Rani's chapter has ended here. Pavitra thinks that every end has a new beginning and hopes that the new beginning should be a good one.
The episode ends.
Click to read