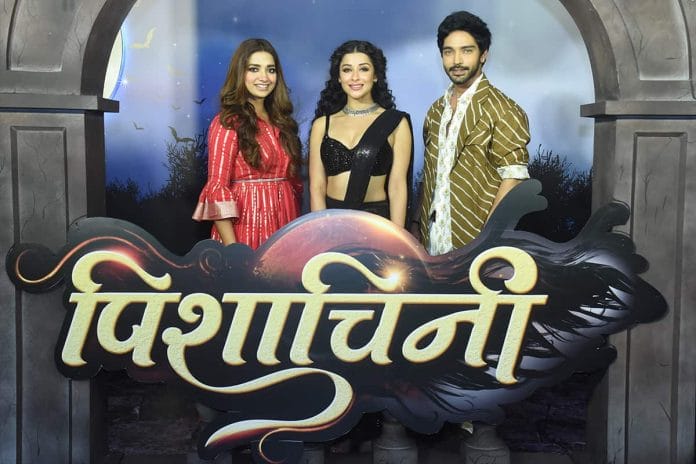 Pishachini 6th January 2023 Written Update on TellyExpress.com
In today's episode, Sudhakar asks Rocky if he has met the construction worker. Rocky says that he is going to meet him only. A knife drops on a basket of apple. Everyone gets scared. Bubly praises Vidya's aim. Vidya asks her to not praise her much as she wants to be perfect like her aunt. Shikha encourages her. Vidya again tries to aim. This time the knife drops on the table and gets stuck in the wall. Vidya takes shape of a tall woman and picks up the knife. Rocky and others talk about Vidya's newly received power of changing forms. Vidya gives them a tips that they can easily check the real look of anyone by using a red colour glass.
Rocky teases her. Dadaji informs everyone about the arrival of two priest. Sudhakar says that he is thinking about blocking the cursed portion of their land. Rocky says that afterwards there will be no passage left to reach the cursed plot. Sapna asks Rocky about Pavitra. Rocky says that she is inside their room, preparing herself to face Pisachini. Vidya says that she can definitely help Pavitra. Sapna asks her to give tea and breakfast to Pavitra. Pavitra fails to find any information about the 10 headed pisachini in the book. Pavitra feels odd. Vidya comes to her. Pavitra shares her worry with her that she feels something bad is about to happen. Vidya gets shocked hearing about 10 headed pisachini. Rocky gives instructions to the workers. They hear a sound.
Rocky goes to check the well. Pisachini abducts all the workers using her hair. When Rocky sees that the workers are missing, he feels Pavitra was right about the upcoming danger and they have to protect their family. The window in Pavitra's room gets opened. They see dead crows outside. Pavitra says that the destruction has started. Dadaji goes to temple to meet the preist. The whole temple suddenly gets empty. Dadaji thinks that Pisachini can't come inside the temple. Rajput sees the weather outside and feels something unusual is to happen. Pavitra says that they together have to fight against whatever it is and none should step out of the home. She notices that Rocky and Dadaji are missing.
Rocky returns and tells everyone what happened near the well. Sudhakar says that the workers might got scared and ran away. They worry for dadaji. Pavitra says that they have to contact him and ask him to stay in the temple. Rajputs feels that Rani is giving them warning and wonders what else she wants now. Pavitra says that Rani must be trying to scare them. Rocky says that neither they will get scared nor surrender. Pavitra says that it's going to be difficult. They find dadaji's phone inside. Rocky says that they have to go to temple and bring back dadaji. Pisachini takes her giant avatar and calls dadaji. Dadaji gets scared.
Dadaji asks Pisachini if she is Vidya and has taken Pisachini's avatar. He says that he doesn't like all these. Pisachini mocks him. She asks him to test. Dadaji throws the ashes on her. Rani makes a shield around her and drops the bottle. Dadaji tries sindoor but same happens. Rani takes her scary form. Dadaji gets confirmed that it's Rani only. Pavitra, Rocky and Vidya try to reach the temple to rescue dadaji. Rani says that she has become Pralay Pisachini and takes her 10 headed avatar. Dadaji gets more scared. Pisachini says that she has come there to kill dadaji.
The episode ends.
Click to read