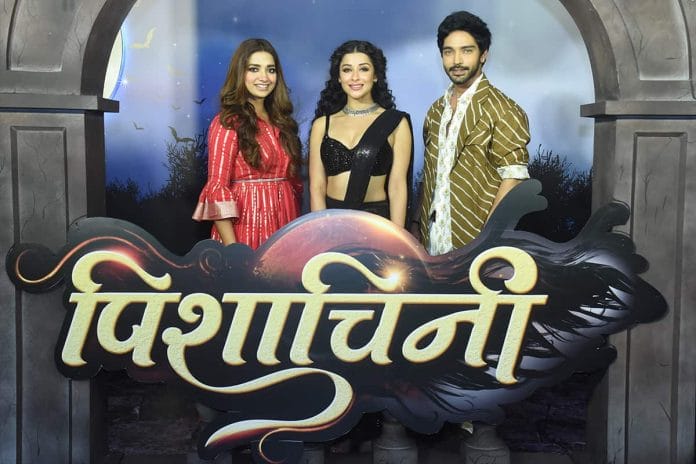 Pishachini 7th November 2022 Written Update on TellyExpress.com
The episode starts with Pavitra turning around and finding no one. She thinks that she felt someone's presence behind her and thinks that something is fishy. On the other hand, Shikha is finding Veer. Maha Pishach comes and stands behind her. Shikha senses someone's presence behind her. She screams, feeling afraid. Rocky-Pavitra's gang hear this and rush to find her. Shikha bumps into Veer. She cries, hugging him. She says that she was worried about him and feels relieved to find him. She hugs him. Rocky-Pavitra's gang arrive there. They ask Shikha and Veer if they are fine. Shikha says that they're fine. Sanchit asks why they have to forest. Shikha and Veer say that they have come to the jungle looking for each other after hearing that scaring voice. Shikha asks about the scaring voice. Pavitra says that they will talk about it after reaching home.
Rani dreams that she is in Pishach's world. The Pishachs mock Rani for being defeated by Pavitra, who is a human being, and being captured by a tree. They laugh at her condition. Rani wakes up startled. She is determined to free herself. At the mansion, Vidya is about to say that a deer was hunted. Sanchit prevents her from telling that. Pavitra says that they have returned home safely. Sapna says that there's no threat inside the house after Pishachini is captured. Pavitra hopes that it's true.
Vidya asks Sanchit why he prevented her from telling the truth. Rocky reminds them that they made a promise that they wouldn't hide anything from the family. Sanchit says that they aren't sure who hunted that deer. He says that it could be any wild animal that came and left after hunting. Pavitra says that it was done by some magical creature. She shows the big nail that she collected near the bones of the deer. Pavitra is sure that the nail belongs to some magical creature which reached near their house.
Meanwhile, Veer is in discussion with Dadaji. Dadaji says to Veer that everything is going according to his plan. He asks him to order what to do next. Veer says that he will tell him when the right time comes. He asks Dadaji to stay in the cage till that, as no one should know that he works for him. Dadaji is sacred that Rani can turn the tables. Veer scares Dadaji by showing his Maha Pishach avatar. He says that Rani can't do anything. He says that he found his target in this house and will execute his plan after two days on the special day of stars. Dadaji asks who his target is. Veer smiles.
The next morning, the Thakurs are preparing for Bhaj Dooj celebration. Rocky and Pavitra have a discussion. Rocky says that the nail that Pavitra found could be any wild animal. But Pavitra wants to get a specialist opinion on this. Rocky says that they should forget about it and move on. However, Pavitra feels that the threat is still around them and wonders what it is. Just then, Veer arrives there. The Thakurs get ready to perform the Bhaj dooj ritual. They look for Vidya.
Vidya goes to check on Rani. She is shocked to find a cycle near Rani and thinks of alerting Pavitra about this. Rani calls out Vidya and says that the scary scream that they heard last night wasn't of any animals, but of something who is roaming in her house for hunting. Rani gives a scary description of that creature and says that no one can save the Rajputs from him except her. She asks Vidya to free her Vidya is scared to hear Rani. However, she refuses to believe her and leaves from there.
The Thakurs perform the Bhai Dooj ritual. The Thakurs then dance happily. Vidya goes aside and calls the anonymous writer. Pavitra bumps into Veer while dancing and feels a jerk. He looks at Veer suspicious.
The episode ends.
Click to read