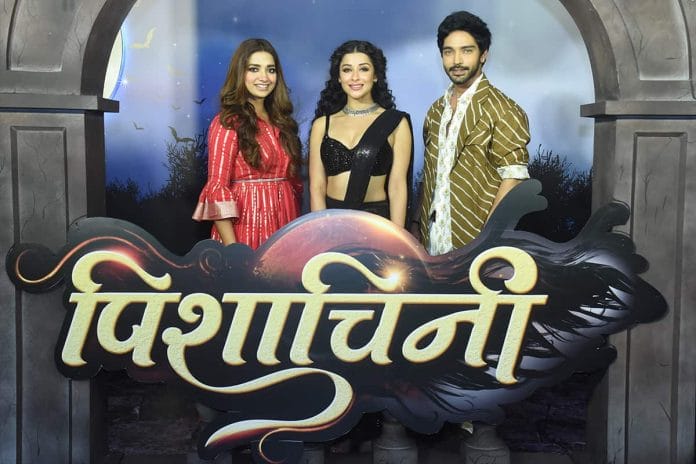 Pishachini 9th November 2022 Written Update on TellyExpress.com
The episode starts with Rani manipulating Sapna to save her child. On the other hand, Pavitra is suspicious of Veer as he didn't recognize the liquid that Nashak sent. However, Rocky says that Pavitra is overthinking. He says that every time Vidya wrote mail to Nashak, they got help even before receiving the return mail. He says that someone knows about what is happening in their house. Then, suddenly, Veer entered their house. Rocky says that this all proves that Veer is Nashak. Pavitra asks what about Veer touching her wrongly during their dance. Rocky says that Pavitra may have misunderstood him as she doubts him from day one. Pavitra says that maybe Veer is tricking them, like Rani used to do. Just then, Shikha, Vidya and Sanchit arrive there. Shikha happily says that she has a good news. She says that Veer proposed to marry her. They all congratulate Shikha. Vidya asks how Veer proposed to her. Shikha enacts how Veer proposed to her. She says that Veer liked their family too in the short time he spent with them. Vidya is happy for Shikha and hugs her. Vidya asks where Veer is.
There, Sapna and Bubli take the baby's cradle away from the tree. Rani thinks that the trees grabbing on her will loosen when the cradle is moved away. Maddy appears and praises Rani's plan. Rani feels proud of her son's strength. Here, Shikha says that Veer told her that she's going to the market, but she thinks that he went to get an engagement ring for her. She leaves along with Sanchit and Vidya, talking about her engagement and wedding. Rocky says to Pavitra that Shikha is happy and asks Pavitra to stop doubting him. Maha pishach cuts Rani's hair which is tied to the baby's cradle with his long nail. Rani is shocked when suddenly the rain stops and the pull on the hair is also loosened and wonders what happened. Just then, Maha Pishach arrives there holding the hair. Maddy gets scared and disappears.
Pavitra is going to change clothes. She bumps into Rocky. The latter asks Pavitra to sit and talk with him. But Pavitra says that she has to make Sanchit's favorite dish. She closes the door. Rocky places his finger on the door, so he gets hurt. Pavitra gets concerned and treats him. They share a moment. Aye udi udi song plays in the BG. Pavitra sees the dark clouds approaching near their house through her third eye and alerts Rocky about some bad omen. Sapna and Bubli take Rani's baby into the house.
Maha Pishach mocks Rani about not being able to become Maha Pishachini. Rani says that she is powerful despite not being able to become Maha Pishachini. At the mansion, Sapna and Bubli hide the baby behind the temple, so that he doesn't harm anyone in the family and nobody in the family finds it out. Maha Pishach frees Rani and harshly throws her on the ground. He challenges Rani to defeat him, then he will make her Maha Pishachini.
Rocky and Pavitra come out of the house. They see that the dark clouds are gathering in the sky above the palace where Rani is captured by the tree. Pavitra senses that something bad is happening there. Sanchit and Vidya join them. They go to check. Sanchit asks if they will be able to stop whatever happening there. Pavitra says that she has the hell box given by the Nashak to control any evil spirit. They go.
There, Pishachini and Maha Pishach fight. They attack each other using their power. Pishachini defeats Maha Pishach. The latter pretends to be impressed by Rani's power. Rani asks her to give her Maha Pishachini crown. Maha Pishach captures Rani again by tricking Rani that he will give her Maha Pishachini crown. Rani shouts that Maha Pishach betrayed her. Maha Pishach says that Rani is a fool to think that he will leave his Maha Pishach status to her. Pavitra, Rocky, Sanchit and Vidya hear a sound and think it's from Maha Pishach's. Rocky says that maybe Maha Pishach is trying to free Rani. They rush there and stand shocked.
The episode ends.
Click to read