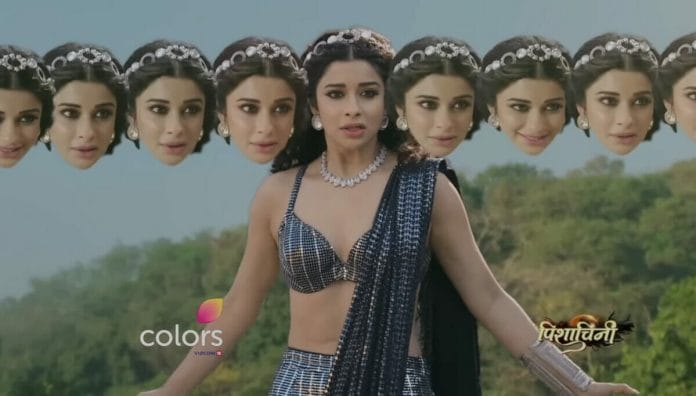 Pishachini Spoilers, Upcoming Story, Latest Gossip , Future Story, Latest News and Upcoming Twist on tellyexpress.com
Colors TV's popular supernatural show, Pishachini, is gearing up for more drama with Rajputs sensing something bad is going to happen.
Previously, it was seen that Rani summoned Kapal Pishach to get a boon. The Kapal Pishach warned Rani that the boon could make her the most powerful pishachini in the world if she won, but it could destroy her too if she failed. Rani was ready to take the risk. Kapal Pishach gave Rani all Pishach world's power, which made her 'Pralaya Pishachini', which was the most powerful one.
She will was able to grow taller and smaller and get multiple heads. On the other hand, Pavitra saw Rani with multiple heads in her dream. She shared with Rocky that she was feeling that Rani was planning something big.
Pavitra and Rocky searched in Pavitra's grandfather's notes to find anything related to it so that they can be ready to face Rani's next attack. Meanwhile, Rani reached the Rajputs' house.
In the upcoming episode, it will be seen that Vidya will practice her newly acquired power of changing avatar in front of the family. She will also teach them how to identify whether the appearance is real or not using a red mirror. Rajputs will decide to close the old mansion where Pishachini resides.
They will call construction workers and the priest for the same purpose. But Rani will abduct them. Rocky will see the workers disappeared and will think that Pavitra was right about the upcoming danger.
The Rajputs will fear what Rani will do. They will realize Dadaji went to the temple alone. They will try to reach him. There, Rani will attack Dadaji in her giant avatar.
What will happen next? Can Pavitra be able to defeat the empowered Rani?
Stay tuned to this space for the latest updates of your favorite shows.