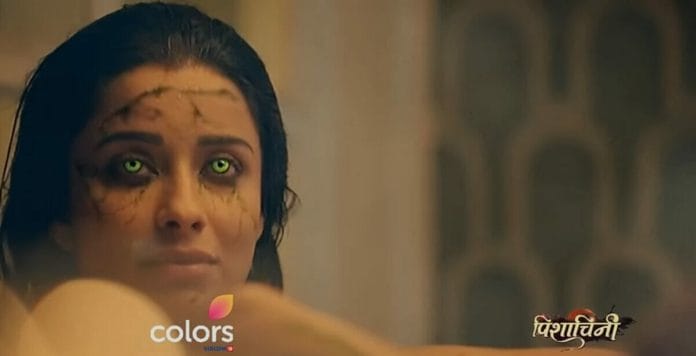 Pishachini Spoilers, Upcoming Story, Latest Gossip , Future Story, Latest News and Upcoming Twist on tellyexpress.com

Colors supernatural show Pishachini is gearing up for more drama with Pavitra trying to convince Rocky that Rani is Pishachini.
Previously, it was seen that Rani killed Himani and her parents and made it look like an accident. She returned to the Rajputs and pretended to be a pitiful girl, who turned an orphan after losing her family in a car accident. Rocky blamed Pavitra for the accident. Pavitra was feeling guilty about what had happened to Himani.
Dadaji said that Pavitra shouldn't blame herself since Rani killed Himani and her parents like she killed Pavitra's parents 20 years ago. Dadaji said that Rani's sole motive was to become a member of this family and she could do anything for that. Meanwhile, the Rajputs were consoling Rani.
Rani instigated the Rajputs by saying that Himani was hurt by Pavitra's words and accelerated the car, which caused the accident. Pavitra got hurt after overhearing Suman also partially holding Pavitra responsible for the accident.
Later, Rocky confronts Pavitra about still thinking Rani is Pishachini. Pavitra firmly said whether Rocky wanted to believe her or not. The fact is, Rani is Pishachini and she wasn't Himani's sister.
She further revealed that Rani killed her family 20 years ago and made her an orphan. She asked Rocky to give her a chance to expose Rani's truth.
In the upcoming episode, it will be shown that Pavitra will ask Rocky to feed food to Rani to expose her truth, since Pishachini can't eat any food.
Rocky will not agree, but in the end he will agree. Later, Rocky will manage to feed a bite to Rani. Rani will transform into Pishachini. Pavitra will click Rani's photo.
Will Pavitra expose Rani? Or will Rani escape again?
Stay tuned to this page for more updates about your favorite Hindi shows.