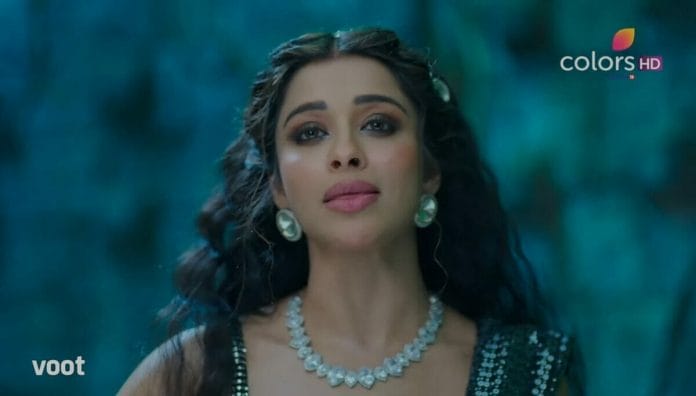 Pishachini Spoilers, Upcoming Story, Latest Gossip , Future Story, Latest News and Upcoming Twist on tellyexpress.com
Colors' popular supernatural show, Pishachini, is gearing up for more drama, with Rani creating a fight between Rocky and Sanchit.
Previously, it was seen that Rocky and Pavitra had grown closer. Ranimesmerized Shikha and made her jump down the balcony to spoil Pavitra and Rocky's romance. Rocky and Pavitra rushed to Shikha, hearing her scream. They were shocked to find Shikha lying unconscious in a pool of blood and called out to the family.
Pavitra looked upward, wondering how Shikha fell, and saw Rani standing on the balcony smiling. Rani blamed Pavitra for Shikha's condition and instigated the family against her. Rocky defended Pavitra and accused Rani of being responsible for all the problems.
Sanchit hit Rocky, which shocked everyone, as Sanchit had never hit Rocky before. Rani smirked at seeing this. Rocky was about to tell Rani's truth to the family, but Pavitra stopped him after seeing Rani extending her nails ready to attack the Rajputs. Sanchit demanded Rocky to apologize to Rani. Rocky refused. Pavitra apologized to Rani on his behalf.
In the upcoming episode, it will be seen that Pavitra will make Rocky understand that they can't reveal Rani's truth to the family now, since it could put them in danger. Pavitra will realize that Rani won't give up after failing to achieve the Maha Pishachini crown and is planning something.
Pavitra will plan to find out Rani's current plan through Sanchit by releasing him from Rani's spell. Meanwhile, Rani will reveal to Maddy that she is gathering her own army of Pishaachs to attack the Rajputs.
Later, the Rajputs will be busy with Diwali's preparation. Rocky and Sanchit will reconcile. Pavitra will be excited to celebrate her first Diwali with the Rajputs.
Will Pavitra find out Rani's new motive?
Stay tuned to this space for the latest updates of your favorite shows.