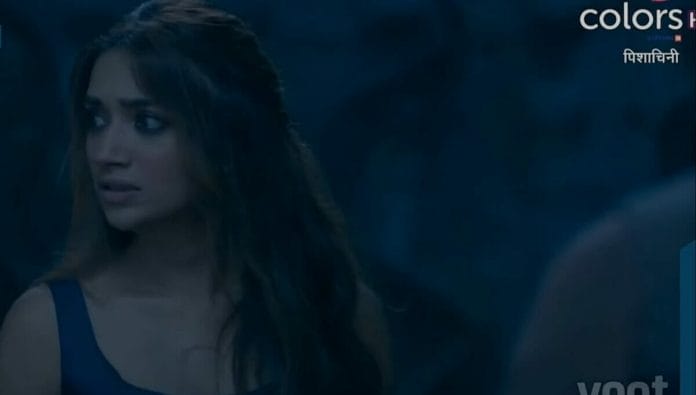 Pishachini Spoilers, Upcoming Story, Latest Gossip , Future Story, Latest News and Upcoming Twist on tellyexpress.com
Colors' supernatural show Pishachini is gearing up for more drama with Pavitra discovering the secret of Rani.
Previously, it was seen that Rani hit Pavitra in her head with a shovel. She took an unconscious Pavitra inside the well and captured her there till her and Rocky's wedding so that Pavitra wouldn't be an obstacle to achieving her goal.
Meanwhile, Pratik and Amrita convinced Rocky and made him drink the spelled juice so that Rocky forgets Pavitra completely. As soon as Rocky consumed the juice, he was excited, marrying Rani forgetting Pavitra. Later, Pavitra gained consciousness and realized that she was captured inside the well.
She shouted for help. She found that the names of the people killed by Rani had been scripted on the well's wall. Maddy appeared in front of Pavitra. Pavitra asked him to tell her the secret behind Rani and Rocky's wedding.
Maddy told Pavitra that Rani wanted to become Maha Pishachini and for that she had to marry someone who was from the lineage of the person who killed Rani. Pavitra was shocked to learn Rani's real motive for marrying Rocky. She was determined to stop Rocky and Rani's wedding at any cost.
In the upcoming episode, it will be shown that Rocky and Rani will be getting ready for their wedding. They will start performing the wedding rituals.
On the other hand, inside the well, the water level will be slowly increasing. Pavitra will shout for help. Here Rocky and Rani will start to take the rounds the holy fire. There Pavitra will drown in the water.
Will Rani marry Rocky and achieve her goal? Will Rocky save Pavitra from coming out of Rani's spell?
Stay tuned to this page for more updates about your favorite Hindi shows.