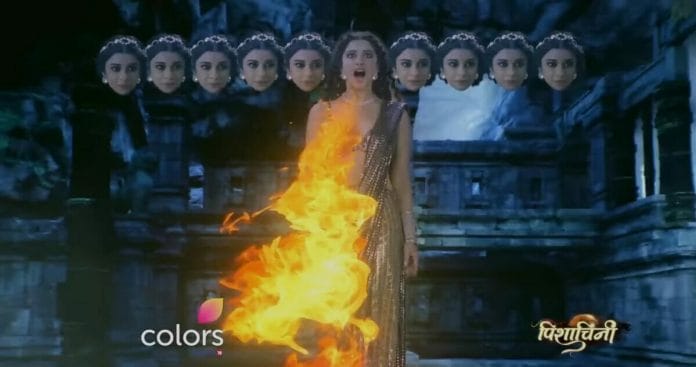 Pishachini Spoilers, Upcoming Story, Latest Gossip , Future Story, Latest News and Upcoming Twist on tellyexpress.com
Colors TV's popular supernatural show, Pishachini, is gearing up for more drama with Rani taking Pavitra to Pishach Devta to sacrifice her.
Previously, it was seen that Pavitra went with Rani. Vidya, who was in the cat's appearance, saw this and followed Pavitra to help her. Here, Rocky realized Pavitra wasn't at home and alerted the family. The family realized even Shikha and Vidya were missing and went to find them. Here, Rani took Pavitra to Pishach Devta, who had wanted Pavitra as a sacrifice in exchange for having opened the pishach door for Rani.
There, Shikha said to the Rajputs that she was hypnotized by Rani. Rocky understood that Rani didn't harm anyone else in the family as Pavitra had gone with her by her will. She had decided to sacrifice herself to save the Rajputs. Here, Pishach devta got ready to kill her.
Pavitra had the divine symbol she had brought from home in her hand. She thought of using it to kill Pishach Devta after being swallowed by him. Rani heard two heart beats and realized why Pishach Devta had demanded Pavitra as a sacrifice.
On the other hand, Rocky found out that Rani had taken Pavitra to Pishach Devta to sacrifice her, as Rani was indebted to him.
In the upcoming episode, it will be seen that Pishach Devta will attack Pavitra. To Pavitra's surprise, Rani will attack Pishach Devta and will destroy him. Pavitra will ask Rani why she saved her life. Rani will say that Pavitra's death is destined and also her child which is growing in her womb.
On the other hand, Rocky will get Divya yantra and will try to teleport Pavitra from Pishach Devta's place to here using that device. Here, after learning that she's pregnant, Pavitra will refuse to sacrifice herself and will get ready to fight with Rani and kill her.
What will happen next? Can Pavitra defeat Rani and kill her?
Stay tuned to this space for the latest updates of your favorite shows.