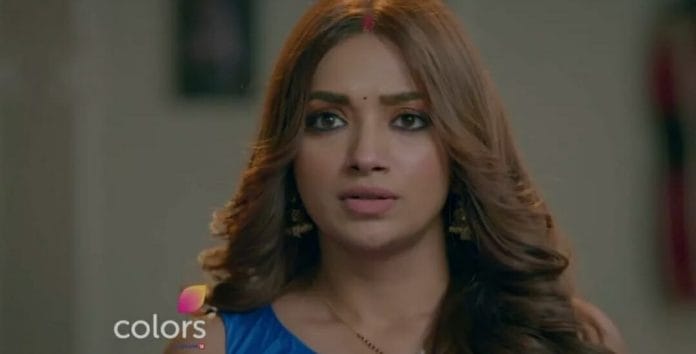 Pishachini Spoilers, Upcoming Story, Latest Gossip , Future Story, Latest News and Upcoming Twist on tellyexpress.com

Colors TV's popular supernatural show, Pishachini, is gearing up for more drama with Rani growing suspicious that Pavitra and the Rajputs are planning something.
Previously, it was seen that Pavitra decided to execute her plan. She danced sensually around Rocky in order to stop Rocky from leaving the room so that Pavitra could keep an eye on Rocky and inject the magical dose into Rocky's heart as soon as he fell asleep. Pavitra was successful in bringing Rocky closer to her.
Rocky fell asleep when he tried to romance Pavitra. Pavitra used this opportunity to alert the Rajputs about the same by lightening the lantern so that they could execute their part of the plan. But the sudden appearance of Rani in front of Pavitra created obstacles for Pavitra in her plan.
Pavitra and Rani started to have a violent fight. Rocky woke up when a few blood drops fell over his mouth and thus Pavitra's plan was spoiled.
In the upcoming episode, it will be shown that Pavitra will decide to execute the plan that night. Kanika will decide to secretly put the weapons in the Rajputs' room. Rani's baby pishach will hold Kanika's hand when she is about to take the weapon.
Pavitra will request baby pishach to leave Kanika's hand. To their surprise, baby pishach will obey Pavitra's words and will leave Kanika's hand. However, the baby pishach hand mark will stay in Kanika's hand. Rani will suspect that Pavitra is planning something and will share it with Rocky.
In order to find Pavitra's plan, the latter will try to trick Pavitra by giving her the illusion of Kanika being stabbed and she's asking Pavitra about their plan on her death bed.
But Pavitra will notice that Kanika doesn't have the baby pishach's hand mark on her hand. She will understand it's Rocky's trick and will fail it.
Will Pavitra be able to inject the magical dose directly into Rocky's heart and change him into a human again?
Stay tuned to this space for the latest updates of your favorite shows.