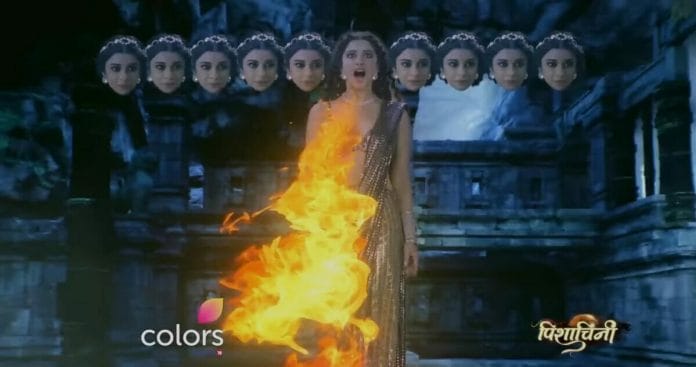 Pishachini Spoilers, Upcoming Story, Latest Gossip , Future Story, Latest News and Upcoming Twist on tellyexpress.com

Colors TV's popular supernatural show, Pishachini, is gearing up for more drama with Pavitra learning that she's pregnant.
Previously, it was seen that Rani brought Pavitra to Pishach Devta to sacrifice her. She realized that Pavitra was pregnant, so Pishach Devta wanted her. She killed Pishach Devta and saved Pavitra so that she could kill her and her growing child in her womb. Pavitra got emotional that she was pregnant. Rani said that the one who would kill Pavitra and her child would become more powerful than her, so she couldn't allow Pishach Devta to become more powerful than her.
Pavitra refused to let Rani kill her baby. Pavitra fought with Rani to save herself and her child. On the other hand, the Rajputs prayed to Hanumanji and found a way to save Pavitra. The Rajputs communicated with Vidya and gave her some instructions. Vidya obliged. Rani overpowered Pavitra and was about to kill Pavitra.
Rocky saved Pavitra using the divine Yantra. But Rocky got some marks on his back as side effects. Pavitra grew worried about Rocky after seeing those marks.
In the upcoming episode, it will be seen that Rani will be about to spit fire on Pavitra. Rocky will run to Pavitra to save her. Wings will appear on his back. Rocky will fly to Pavitra. He will lift her in his arms and fly away. Rani will wonder where Pavitra has gone. Rocky and Pavitra will attack Rani when she least expected and will capture her in a box.
What will happen next? Will this be the end of Rani's chapter? Will Rani be able to come out of the box again?
Stay tuned to this space for the latest updates of your favorite shows.