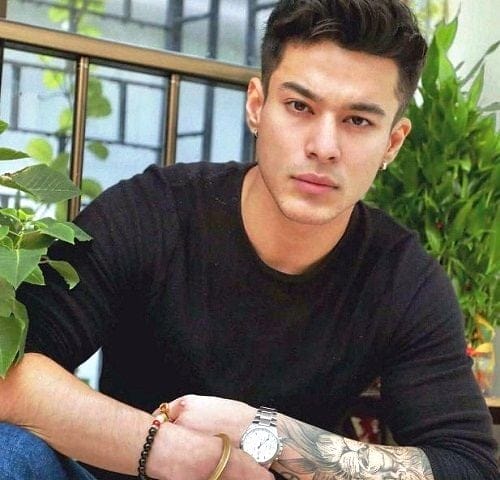 By Anil Merani| Bigg Boss(BB) 2021 has proved to be a godsend for Pratik Sehajpal. This angry young Haryanvi was an unknown property before his action in Bigg Boss OTT last year, and the main house catapulted him to national fame.
Since BB15, Pratik has not looked back. He first did a few music videos( Naina Mere, Dua Karo and Khilona) and then challenged his fears in the ongoing Khatron Ke Khiladi 12( Was eliminated a few weeks back.)

Now comes the news: Colors and Ekta Kapoor might cast him as the male lead in the Naagin 6 post-leap story.
Existing Naagin 6 male lead Simba Nagpal is quitting(not wanting to play dad), and female lead Tejasswi Prakash will return as Naagin Pratha's daughter.
Pratik fans are happy that he finally has the opportunity to show his acting skills rather than just his loud voice, as seen on Bigg Boss.

His Khatron skills though good, did not generate enough noise as his run in's with Divya Agarwal and Karan Kundrra in both versions of Bigg Boss 2021.
Pratik has been around for a while, having done MTV's Love School 3 and Alt Balaji web series, Bekabee.
Pratik's histrionic skills are an unknown property, with not many having watched Bekabee. We are all waiting for him to prove his acting mettle.
Doing a fiction show is a different kettle of fish compared to non-fiction. Don't get me wrong, I am not saying reality shows are a walk in the park.

Music videos also can be regarded as a show reel but are no substitute for proper series or films.
Naagin 6 allows Pratik to showcase all his acting facets, be it anger, love, humour, softer side, etc. Plus, being a fantasy, you also need to suspend disbelief.
Pratik's chiseled physique will help as good looks sometimes count more than acting on TV.
The makers hope that the Pratik – Tejasswi Bigg Boss equation will help them get more eyeballs. It would be interesting to see Teja's guy Karan Kundrra reacts to this? Karan and Pratik also have a history. The former was the latter's mentor in Love School 3