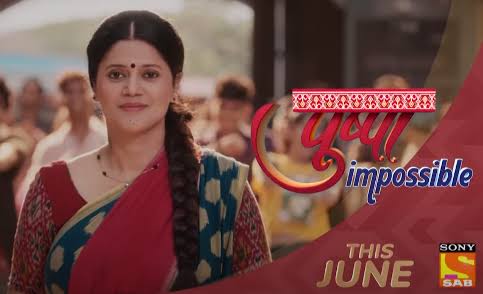 Pushpa Impossible 10th January 2023 Written Update on TellyExpress.com
The episode starts with students enquiring Pushpa about her injury. Nanavati motivates her to not lose hope as she still has another hand and there is still time for the prelims. Pushpa understands what he told and also explains it to others. Chirag confused about Dharam resembling his father and wonders whether he should share it with Prarthana. He then discards the idea and asks Munna about it. Munna says it only happens in films. DCP arrives to Hyderabad jail and asks for his record. They act ignorant but DCP says she has higher officials' permission a nd they immediately look into it. In school, Pushpa teacher teaches them about DNA test and its efficiency. DCP gets the record from Police. Teacher says that criminals can be identified using their fingerprints. DCP also plans to do the same with Dharam. Dharam gets worried about getting caught when Mansi brings the documents Police requested. Pushpa recalls Deepti teaching her about internet and tried finding Dharam's face but she couldn't find any.
Biopharma comes unannounced irritating Mansi. He wants to renew their deal but Mansi turns down his offer as he's double faced. Bapodhara gets shocked when Dharam asks him to leave and his voice disturbs Bapodhara. DCP visits Dharam who asks her to discuss with his lawyer before speaking with her. His lawyer says that he wants to file defamation case on Jogi Dhayal. DCP says that he's a goons nd it's a part of his act. She asks why they are wasting their time on him. She asks for the documents she requested. Dharam takes it and gives it to her and DCP notices the solid thumb impression on the file. She thanks him in mind and leaves with the file. She asks Manoj to get Dileep's fingerprint ready to compare it with Dharam's.
Ashwin comes home and finds only Chirag. Chirag says everyone are busy with different works and he leaves to get him tea. He brings him tea and asks him about Dharam Raidhan. Ashwin says he has a very big business tycoon and says both he and Pushpa met him in hospital. Chirag wonders how did they not recognize the similarity. Ashwin reveals that they didn't get to see his face as it was covered with band aids due to accident. Chirag says that he tried finding Dharam's picture on Internet but couldn't find it. Ashwin asks the reason for his research on Dharam Raidhan but Chirag didn't reveal it. Pushpa tries to practice with left hand with her family's encouragement.
Precap : DCP will say Dharam that she has sent his fingerprints to match it with Dileep Patel's fingerprints. The finger prints result will be out. Chirag will wonder why the Police are after his father and wonders what did he do. Dharam's band aid will get removed and Chirag will get shocked seeing his face.
Click to read