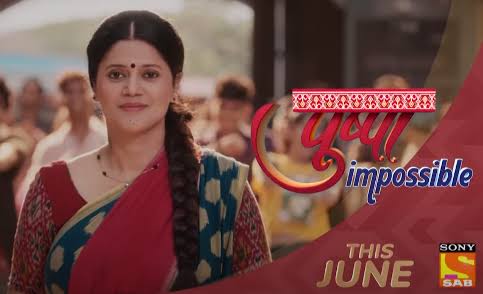 Pushpa Impossible 11th November 2022 Written Update on TellyExpress.com
The episode starts with Neelimagiving flower petals to shower blessings on Bapodhara. She forwards the flower plate to Bapodhara. Bapodhara tries to threaten Neelima to stop investigating on Sethji and insult her about her case. Neelima give sit back saying that case is pending on him to as he's out in bail because of Pushpa and leaves. Bapodhara gets irked. Ashwin and Deepti starts taking rounds around fire and everyone showers flower petals on the couple. Varsha gets Lawyer's call who says that he's oustside chawla nd they need to get signature from Kaku and Pushpa. Varshasays it will be done soon. Pushpa hears her and Varsha turns around and gets shocked seeing Pushpa. She lies that she's discussing about flat papers which they need to separate after divorce. Ashavari calls Pushpa and she leaves while Varsha sighs in relief.
Pushpa comes to Kunjbala Maasi and asks her to forget all the bad things as she's elder to all. Kunjbala apologizes Pushpa and says that It's the chawl owner who messed with her mind. Pushpa looks disgusted at Bapodhara. Ashwin and Deepti comes out married and Deepti gets emotional and cries hugging her parents. She hugs Kunjbala who asks her to not punish Deepti for her mistake. Pushpa nods no. Deepti bids emotional good bye to Sonal and Mansish. Sonal advises her that she's stepping into the next chapter of her life. She says that till today she held their fingers and from now on it will get replaced by Ashwin and Pushpa's fingers. She asks her to handle well. Manish also advises the same to Deepti. Sonal says Deepti that Pushpa is her bestfriend and asks her not to hurt her too. Pushpa promises to prioritize Deepti above everyone from now. Deepti leaves with Pushpa's family.
Pushpa welcomes Deepti home taking her aarti and she pushes the rice pot. Varsha and Pranav checks the property papers and finds it alright. Varsha says that they just need to get Pushpa and Kaku's signature in the papers. Deepti's grahpravesh takes placeand they start playing games. Rashi drops the ring in milk and asks them to pick it. Deepti wins it first but Ashwin suggests for best out of 7. Both Deepti and Ashwin gets equal points in the game and Pushpa says whoever wins it will rule over the other person. Deepti will ask what if both takes the ring at the same time.

Precap: Varsha will lie that it's an application to get water for Chawl and will say that theya re going to get sign from everyone from chawl. Pushpa will first sign it and will forward it to Kaku. Kaku will start to read the papers.
Click to read