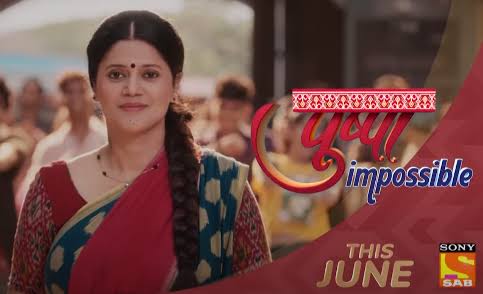 Pushpa Impossible 12th January 2023 Written Update on TellyExpress.com
The episode starts with Chirag confused about Dharam when Pushpa comes home. She enquires about his college and lecture. Chirag lies about his classes. Pushpa taunts him and says about her visiting his college. She chases after with a bat to beat him and Chirag runs around the chawl. He comes to Kaku's house and Kaku has a hard time to control Pushpa. Pushpa complaints about Chirag to her. Kaku explains to her that Chirag may be immature but is not bad. She asks her to not worry about Chirag. Pushpa calms down a little with Kaku's words. Sunny and his mother were discussing about what could be the reason for their father to rename his properties on Bapodhara's name. he asks if she knew anyone who could help them know about the past. His mother says about an old friend who is common friend of them and something could be found with the help of him.
Ashwin is about to go to meet Mansi t get sign in some documents. Pushpa pleads Ashwin to try to convince Mansi with the redevelopment project to resume as everyone had big dreams about it. Ashwin agrees to speak with him. Chirag offers to drop Ashwin and Pushpa teases him. Chirag stops Pushpa from saying about his college issue with Deepti. They both leave together. Dharam's band aid is getting removed and both Ashwin a nd Chirag are forced to wait outside from meeting Mansi. Chirag sees through the small opening as the band aids gets removed and gets shocked to find it so similar with his father's face. Ashwin couldn't get to see him a as Mansi was hiding him. He scolds Chirag for peeping. Ashwin leaves as he feels it's not the right time to discuss with Mansi and goes with Chirag.
Doctor says Mansi that the scars take time to heal but thankfully his eyes were not injured. Mansi speaks proud of him and gets emotional. She then leaves with Doctor to discuss further while Dharam checks his face in mirror. Pushpa thinks about Dileep seeing his picture and turns his photo backside to avoid seeing it. Ashavari comes there with food and leaves to kitchen to get utensils. She sees the reverse photo frame and corrects it. Pushpa again keeps it in reverse and this time Rashi corrects it. She asks about it and is confused with her mother's behavior so does Deepti. DCP and Manoj discuss about the different factor that could affect fingerprint test. DCP recalls the fire accident and understands that his finger prints got changed at that time. The remaining two tests are voice test and DNA test. Since they don't have voice sample they plan to go with DNA test for which they need Pushpa's family help. Chirag decides to share his confusion with Prarthana while Pushpa informs Deepti about her fear after hearing Dharam's voice.
Precap : Ashwin will finally see Dharam's face and will get extremely shocked. DCP will call Pushpa with her as they doubt a guy to be her husband Dileep Patel. Pushpa will be shocked to hear it.
Click to read