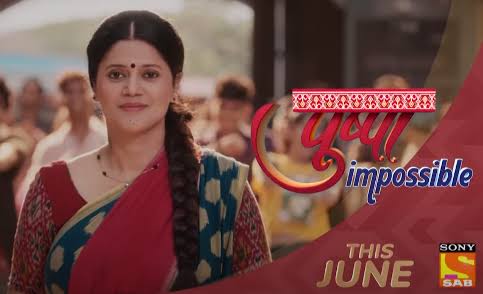 Pushpa Impossible 12th November 2022 Written Update on TellyExpress.com
The episode starts with Deepti asking what if both pick up the ring at the same time. Pushpa says that it means both are equal. Deepti and Ashwin picks the ring at the same time. Chirag calls it cheating. Baskar says that suhaagraat is still left and everyone smiles. He says that he and Ashavari have booked a room for them in hote. Pushpa says she decorated the room but others convince her. Ashwin and Deepti comes to hotel room with Ahavar, Baskar, Chirag and Rashi.
Chirag and Rashi demands money to enter the room. Ashwin gives it and they are about o leave giving them privacy. Ashwin stops them and says they still have work. He and Deepti lifts the bedsheet to find Papads below them . Ashwin calls it a old school prank and asks them to leave after removing all the papads. They all remove it and thanks their leave. Ashwin gets romantic with Deepti when suddenly they hear alarm sound. Ashwin switches it off. He again tries getting closer to her but again another alarm rings. Ashwin gets irked when Deepti says that there is one more ritual left.
Pushpa looks at the piled up gifts at her place and says that even more things are a trouble for poor people. Susheela expresses her happiness on Pushpa becoming mother in law. Pushpa says that now she has the bigger responsibility to become the best mother in law for Deepti. She recalls Deepti taking stand for her in front of her own Dadi. Kaku agrees with her and says that she's blessed to have a daughter in law like Deepti. Pushpa feels overwhelmed. Ashwin and Deepti takes rounds around candles with cute promises. Ashwin then shows her a cake with auto designed on it pointing their first meet. They both cut the cake and feed each other. Later they both gets romantic and intimate.
Pushpa and Mahendar can't keep praising Deepti. They speak about Ashwin. Bapodhara interrupts them and says that there is something called blood relation. He says that thoigh he's a good person we may never know what he would do in anger. He reminds him about Dileep's behavior. Pushpa gets upset while Mahendar sends him away. He consoles Pushpa and asks her to not mind Bapodhara's word and asks her to remember Kaku's words. Pushpa agrees with him. Varsha and Pranav makes plan to get Kaku and Pushpa's signature in property papers.
Precap: Varsha will lie that it's an application to get water for Chawl and will say that theya re going to get sign from everyone from chawl. Pushpa will first sign it and will forward it to Kaku. Kaku will start to read the papers.
Click to read