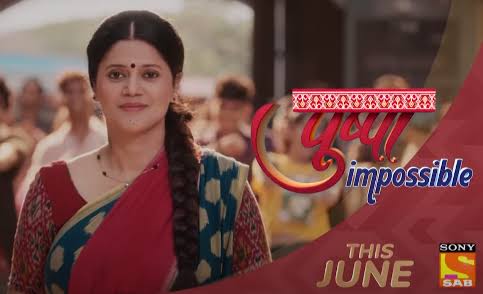 Pushpa Impossible 12th September 2022 Written Update on TellyExpress.com
The episode starts with Mahendra saying Pushpa that Golu has been missing for hours and cries about it. He gets scared if something happened for him and Ashwin asks him not to say bad. He says they'll find him. Pushpa asks Ashwin to make missing posters. Mahendra and Chirag go to police station to lodge complaint. Bapodhara calls the local news channel to give missing announcement. Rashi brings the posters and Pushpa asks them to post it in all the crowded places. She thinks that he would be mixed up in Ganpathi Visrajan celebrations. Pushpa says that she needs to deliver ladoos and Ashwin asks at this time how could she do it. Pushpa says they can't trouble others for their problem and says that she would stick posters on the way to Boriville.
Golu is dancing in Ganpathi Visrajan crowd and out of his love for Bappa he gets on the truck which takes Bappa away. Chirag and Mahendra passes by but they miss to see Golu. Golu soon gets reminded of Mahendra and tries calling him but finds his mobile battery drained. Everyone searches frantically for Golu. Pushpa sticks posters of Golu when constable asks her to not stick it. Pushpa shows other fancy posters and asks why didn't he say anything about it. She says that she too know well about the citizen duty but she's now in an emergency situation. She says that their special child is missing and his father is worried about him. Police understands her condition and takes one poster from her to send it to police station Pushpa thanks him and leaves.
Golu jumps down the truck and starts wandering on roads. He has various hit and miss situations with Pushpa and others. He asks people for charger but the other person couldn't understand it. Two thieves follow him to snatch his phone. He sees Ganpathi Bappa shop and enters it and thieves follow him. The thieves manages to steal his cell phone. Golu tries leaving with Ganpathi Bappa idol but the shop owner stops him and accuses him of stealing. A lady comes forward to help him saying that he's a special child and leaves with Golu. She makes him sit in auto when Pushpa comes there asking for Golu. She sees his picture and identifies him but will lie that she didn't know him.
The lady takes Golu to a jewellery shop and introduces everyone that he's her son. She selects a jewellery and manages to sneak out leaving Golu with them. Upon knowing that they were cheated they checked her bag to find fake money. The shopkeeper accuses Golu for being a part of the cheating racket and is about to hit him.
Precap : Pushpa will be in Rajesh's society. She will pray for Golu's safety while the celebrations for Ganpathi pooja will take place.
Click to read