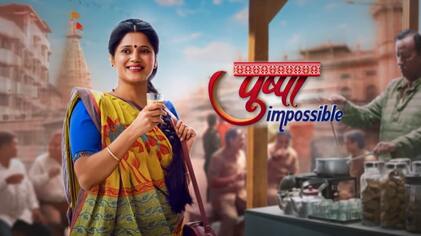 Pushpa Impossible 13th November 2023 Written Update on TellyExpress.com
The episode starts with Pushpa seeing that Prathna is having trouble applying nail polish to her leg's finger nails. Pushpa offers help to Prathna and applies nail polish to Prathna leg finger nails. Prathna and Pushpa talk about Bapodara and Chirag.
Pushpa and Prathna see Rashi has fixed her dad's photo frame and brought it home.
Ashwin learns that Binesh is going to meet Chirag. Ashwin gets worried hearing this. Ashwin goes to meet Binesh.
Rashi comments on Bapodara. Prathna feels upset with Rashi's words and leaves from there. Deepti says to Rashi that she shouldn't talk like that infront of Prathna about Bapodara as he is her father. Rashi agrees.
Chirag comes to meet Binesh. Binesh asks Chirag what information does he want? Ashwin comes and interrupts their conversation and takes Binesh away from there.
Binesh asks Ashwin why is he asking him to avoid Chirag? Ashwin says Chirag is a news reporter and says he is doing a news story on tender scam. Binesh gets surprised hearing this.
Pushpa says to Rashi that she needs to remember that Prathna is Bapodara's daughter and they can't insult Bapodara in their house like that.
Chirag calls Deepti and asks Deepti to come to him. Deepti comes and asks Chirag what happened? Chirag says Ashwin is hiding something from him and says to Deepti how Ashwin took Binesh away when she tried to talk to Binesh.
Juggal overhears Hasmukh commenting on his and Pushpa's relationship. Juggal slaps Hasmukh and starts beating him up. Bapodara stops Juggal and asks Juggal why is he hitting Hasmukh. Hasmukh says to Bapodara that Juggal and Pushpa are having an affair and says Pushpa took the keys from him so that they could meet each other. Juggal hearing this beats him up again. Bapodara stops Juggal and says there is no smoke without fire.
Pushpa admonishes Bapodara's behaviour as he is supporting Hasmukh and questioning her character. Bapodara argues with Pushpa and asks Pushpa to answer all the people in the chawl about their relationship. Pushpa comments on the people saying Juggal is her childhood friend and nothing more than that. Hasmukh says there is name for every relationship between a girl and a boy. Pushpa says there is friendship between them. Pushpa comments on the people's thinking and says she doesn't need to give an explanation to them as her and Juggal's relationship is pure. Bapodara asks Hasmukh to stop commenting on Pushpa and Juggal again.
Binesh says to Ashwin that he should allow Deepti to meet him and says if Chirag gets suspicious too much then it will become a problem to them.
Ashwin comes and comforts Pushpa. Ashwin comments on Bapodara and Hasmukh. Pushpa hopes that Chirag will not argue with Bapodara about this.
Chirag asks Bapodara if he is taking his revenge on him like this by suspecting his mother. Chirag argues with Bapodara. Bapodara asks Chirag to send Juggal away. Chirag comments on Bapodara. Bapodara raises his hand at Chirag. Susheela defends Chirag and reminds Bapodara that Chirag is their son in law. Bapodara leaves from there.
Chirag comes to Pushpa. Pushpa asks Chirag if he argued with Bapodara. Chirag stays silent.
Episode ends.
Precap:- Rashi requests Pushpa to allow her to meet her dad in jail for once. Pushpa doesn't agree to it. Rashi says she will meet her dad in jail no matter what.
Click to read