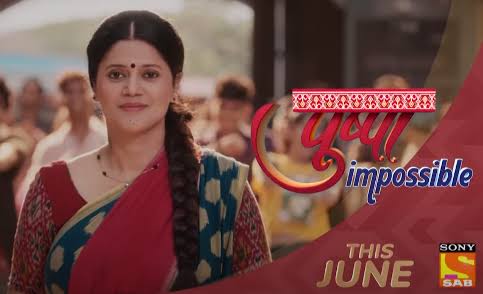 Pushpa Impossible 13th September 2022 Written Update on TellyExpress.com
The episode starts with Radhika about to get hit by van but Pushpa saves her. She gets details from get and calls Rajesh to come there saying that his mother with her. They gets relieved and rushes there. The shop owner is about to hit Golu but Harshad Agarwal stops him. He says he's a special child and if he's really a part of the gang then they wouldn't have left him there. He takes him with him to pandhal as he keeps saying Bappa. Rajesh and family finds Radhika when Pushpa goes to get her water. She sees them united and is about go go near them when Dakku keeps calling her for ladoos. She left without saying while they search for the woman who helped her.
Mahendra cries in front of God to help him find Golu as he's the only reason for him to be alive. Everyone comforts him. Harshad brings Golu to Pandhal who's happily enjoying. He says about Golu to Rajesh and Rajesh feels bad for him. They converse with him to get details from him but only managed to find his name. Pushpa brings ladoos to Dakku who shouts at her for being late without listening to her. Pushpa gets frustrated upon trying to make him understand and shouts that her child went missing and lashes out at him for not trying to understand her situation. Dakku apologizes her and says that she would definitely find her child. Golu wants to use rest room and Harshad takes him there. While he's busy with call Golu sneaks out.
Atharva came up with unique idea of using chocolates and dry fruits to make Bappa idol. He says that if they mix it with milk it will also turn Prasad. Golu is about to go out when Atharva spots him. In order to convince Golu to stay he gives his dance costume to Golu not worrying about the prize money. Golu performs along with others in the dance. Vandana comes across Golu's forwarded message from Deepti's parents and contacts Deepti. Deepti got elated and shared the happy news with Mahendra. She calls Pushpa and says about Golu's location too. Pushpa says she's just back from there and returns to the society.
Pushpa meets with Radhika who says Vandana that she's the one who saved her. Rajesh and Vandana thank her and Rajesh finds Golu's picture. He says it was him who called them regarding Golu but says that he went missing again. However he says that he's somewhere in society only. Pushpa prays for Golu and once the performance ends she picks the flute and calls out for Golu. Mahendra and others come there and Golu comes forward revealing his mask. Atharva told whatever happened and Pushpa praised him and his parents for teaching him good values. Atharva wins the prize money but he wants to use it to buy Ganpathi Bappa moorthi every year for Golu. Everyone rejoins and does aarti for God.
Click to read