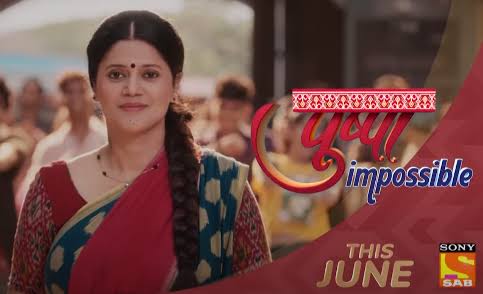 Pushpa Impossible 14th January 2023 Written Update on TellyExpress.com
The episode starts with Ashwin saying the truth about Dileep to Chirag and he's shattered over the same. Chirag says that Dharam and Dileep have sky and earth difference between them. Pushpa shares with Kaku about Dileep. Deepti says that running away doesn't help anyone and instead they must support Police to identify him. Kaku agrees with Deepti. Pushpa asks them to not let Ashwin, Chirag and Rashi anything about it. Kaku assures that they are with her and says everything would be sorted. Pushpa shares her fear with Kaku. Pushpa cries in fear and Kaku encourages her to not fear as he's dead. Everyone at house are lost in Dileep's thoughts without another person knowing it. Dileep recalls Ashwin identifying him. Pushpa is also sleepless. Bapodhara also thinks that Dharam's voice and eye is similar to Dileep but soon rubbishes off the thought. Susheela gets hocked hearing Bapodhara taking Dileep's name and asks about it. Bapodhara asks her to not mind it as he was lost in old thoughts.
Next morning, Bapodhara taunting Chirag upon seeing him. Bapodhara asks why did Police visit their house these days. Chirag is surprised that Police came to their house and Bapodhara says what happened. He says about them enquiring about his father and Chirag is surprised over the same. Chirag shares about what Bapodhara told to him and says even Pushpa is hiding about Dharam from them. Pushpa asks what hiding and Chirag makes some excuse. Pushpa is about to leave when Ashwin hugs her and asks if she's fine. She acts fine but Ashwin could see through her. Pushpa asks what happened. Ashwin says she took care of them from their childhood and now it's their duty to care for her. Pushpa leaves saying that she's fine. Ashwin says Chirag that they need to stand by their mother in her difficult situation. He asks him to call Manoj sir and find details. Chirag contacts Manoj and learns that Bapodhara was right and shares it with Ashwin.
While leaving, Pushpa is interrupted by Golu who stops her from leaving. Pushpa handles him and sends him away. She prays God if he's giving sign that she shouldn't go. She prays for God to be on her side. Pushpa is happy that Aryan is her exam writer. Rashi gives instructions to Aryan. While everyone are discussing about exams, Pushpa is lost with DCP's words. After school, Pushpa gets into Deepti's car while Ashwin and Chirag will follow them without their knowledge.
Precap : Mansi will be angry at DCP for crossing her limits. DCP will says that she's just doing her job and will send Mansi out. She will call Pushpa in who gets shocked seeing Dharam.
Click to read