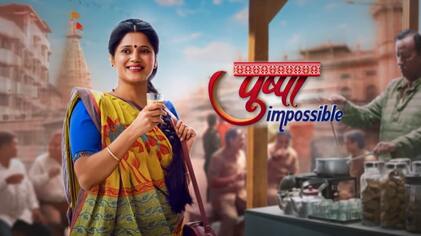 Pushpa Impossible 14th November 2023 Written Update on TellyExpress.com
The episode starts with Juggal deciding to go back to the village. He comes to the hall with his luggage. Pushpa and her family try to stop Juggal from leaving. Juggal says to Pushpa that she is really blessed as she has a family like this. Pushpa requests Juggal to not leave them and reminds him it's his family too. Pushpa and her family plead with Juggal to not leave them. Juggal agrees seeing their love. Ashwin hugs Juggal.
Susheela questions Bapodhara as to why he pointed out Pushpa's character. Bapodhara says he knows how they met Namrada behind his back his make Chirag win the challenge. Susheela says she supported the truth unlike him and she asks him to change his ways and accepts Chirag. Chirag comes there and overhears it. Bapodhara breaks glass and leaves. Chirag comforts Susheela.
Rashi questions Prathna why she stayed silent when her father accused Prathna. She says Bapodhara is troubling Pushpa because of her. Pushpa and Deepti stop Rashi. They say it's not Prathna's mistake. Prathna supports her father and tells Rashi that she too loves her father even though he made mistakes. She rebukes her. Rashi gets angry and leaves aside. Ashwin tries to support Rashi but she asks him to leave her alone.
Rashi and Prathna ignore each other. Pushpa and Deepti notice them. They decide to sort out the differences between Prathna and Rashi. Pushpa calls Chirag. She tells him a plan to sort out the differences between Prathna and Rashi.
Chirag comes to his house. Prathna and Rashi hug him. Chirag sort out Rashi and Prathna's differences with his words. He asks them to eat ice cream. They feed ice cream to Chirag. Pushpa and Deepti feel happy seeing them.
Ashwin fights with Deepti for inviting Binesh for dinner. Deepti asks why he is serious on this matter and asks if something is troubling him. Ashwin comments on it. Deepti sleeps ignoring him and thinks what's he hiding from her.
The next day, Susheela serves breakfast to Bapodhara and Chirag. Bapodhara feels a headache. Susheela asks him what happened. Bapodhara says headache as he forgot to take his last night's Bp tablet. Chirag says he has a solution. Juggal tells Deepti about the consignment. Deepti leaves taking details. Juggal shows Dileep and Rashi's photo he found in Rashi's room. Rashi comes there to call Pushpa. She sees her and Dileep's photo in Juggal's hand.
Episode ends.
Precap – Rashi requests Pushpa to allow her to meet her dad in jail for once. Pushpa doesn't agree to it. Rashi says she will meet her dad in jail no matter what.
Click to read