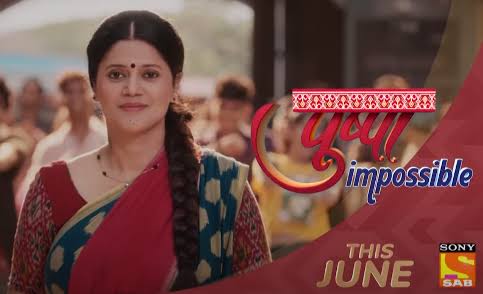 Pushpa Impossible 14th September 2022 Written Update on TellyExpress.com
The episode starts with Pushpa asking Golu to not repeat what he done today and he apologizes his father. Bapodhara teases him when Golu will ask Kaku to slap him. Everyone laughs at it while Kaku asks Pushpa to continue her studies as she already wasted much time in searching Golu. Deepti sees rain and imagines dancing with Ashwin in rain. Sonal sees raining and says Manish that she doubts that Pushpa would come to tuition today. Manish asks her to not underestimate Pushpa. Just then the door bell rings and Manish signals her that he's right.
Pushpa comes there drenched and Sonal gives her towel and tea. She asks why don't she take off as it was raining but Pushpa says that she had no time to waste as Unit test tension is above her head. Sonal decides to teach renewable resources and Pushpa states its definition. Sonal asks if she really wants to learn science as she's already acing it. Pushpa says that she doesn't know anything more than that. She says that these days students store whatever in books like robot in their memory and vomit it the next day in paper. She says that no one would remember even half of what they answered if questioned later. Sonal and Manish agree that the education system has its own limitations and wishes that it changes. He says Deepti was also a very good athlete but she had to leave her dreams for studies. Pushpa says its the issue in the country as anything other than studies is only considered hobby and not profession. Just then Rashi calls and Pushpa realizes that she warded off time chatting and leaves immediately. Manish teases Sonal.
Prarthana says Chirag that she's spending time with him and is worried that what if father again sees them together. He jokes with her and she asks about his part time. Chirag says he's doing it and Prarthana suggests him to concentrate on business. She suggests to use Munna's shop for drawing sketches and earning through it. Chirag praises her idea. Bapodhara confronts Pushpa for the party in terrace and Pushpa agrees to pay for it. Bapodhara warns to give her penalty and by mistake he skids and falls down. He hurts his ears and it starts bleeding. Pushpa and others helps him. He recalls Dileep getting arrested after hurting him. He says that it was given by Dileep which is why he can never forgive him or his family. Susheela asks him to not talk about old things but Pushpa says Bapodhara is not wrong. Bapodhara refuses to get help from her.
Pushpa comes home when Chirag says that Bapodhara deserved what his father did. Pushpa slaps him and asks how could he say that a man's suffering for whole life is justified. She told that they were in Patan when it happened but Bapodhara still let them stay there. Rashi still believed her father. Pushpa called her to study when Rashi finds her down with fever. She goes to get her medicines. Doctor treats Bapodhara and gives new hearing aid for him. Prarthana sees him out.
Precap : Pushpa will be scared about her exam. She will start giving her exams when on by one many students will start falling sick. Pushpa will rush to help then when teacher will ask her to concentrate on her exams while they will take care of the children.
Click to read