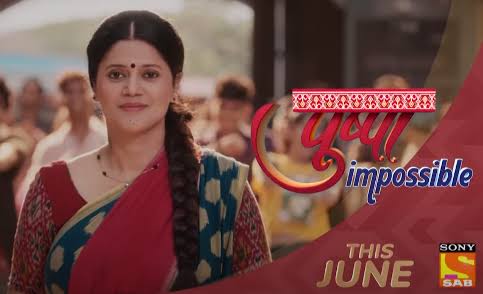 Pushpa Impossible 15th August 2022 Written Update on TellyExpress.com
The episode starts with Pushpa and Rashi listening to Nanavati's speech. Nanavati instructs them to never lose their confidence and gives them example of Abdul Kalam. Rashi asks if he too experienced it and Nanavati recalls an incident when he was thrown out of the house by debtors and they had to stay under tree with their things. He remembered studying the whole night with passion and ending up topping the exam the next day. He asked them to have such fire in themselves. Deepti and Ashwin were present in the booking agency and they send Ashavari and Baskar in to collect details about the booking. Ashavari and Baskar pretended to be customers and tried to fish out the details. They learnt that someone named Dr. Leela Sai enquired about booking last week. They inform it to Ashwin and Deepti who equally have no idea about the person.
Sam and Parminder were discussing about the complaint box when Saran comes there. Rashi thanks him for his timely advise and Saran says it's because of Pushpa. He says that he doesn't have a mother and asks her to value Pushpa in her life. She agrees. Parminder asks Saran to join them for lunch but Rashi says she don't have lunch. They all share and eat. Rashi and Pushpa were returning from school when a car smears mud. Angry Pushpa is about to hit the car with a stone when the owner of the car gets down and apologizes on behalf of her driver.
Pushpa continues lashing out at her and after a series of events they reconcile. Pushpa introduces herself and urges Rashi to leave soon as it may rain and their things are outside. She asks for the lady's name and she introduces herself as Damini Mehra. Pushpa greets her and takes her leave. Pushpa comes to Chawl and finds her things lying around. Rashi and Deepti were chatting having their coffee when Sonal comes there. She scolds both for chatting without studying and asks Rashi to complete her studies. She sends dry fruits for her. She discussed about the case with Deepti and Rashi thanks her for Ashwin. Sonal says he's their son too. Rashi starts getting used to luxurious stay.
Bapodhara says that he's doing cleaning and so keeping things away which is on the way. Pushpa lashes out at him for using cleaning as excuse to get her in trouble and fights with the workers. She struggles to put it all in place before they could spoil it. Radha Kaku notices bruises on Neelima's hand and feels bad for her. She's also upset that Neelima is protecting her husband who did so much harm to her. Pushpa agrees with her and by mistake takes Dileep's name keeping her in Neelima's position. Radha Kaku advises her to forget the past to move on in her life.
Precap : Pushpa will ask Ashwin to find about Damini Mehra. Ashwin will search about her and will say that she's a social activist and is a leading lawyer. He will say that she's also a gold medalist. Damini will come to meet Pushpa and Bapodhara will see it. Pushpa will show her locked house to Damini and Damini will ask her to share all the documents she has with her regarding the case.
Click to read