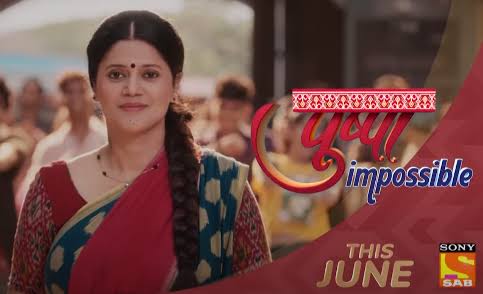 Pushpa Impossible 15th November 2022 Written Update on TellyExpress.com
The episode starts with Neelima at Bapodhara house to give rent to him. He asks whether he asked for it. Neelima says that he gave receipt to everyone and till Ramesh comes out of coma outshe asks him to give the receipt to her. Bapodhara says that Ramesh already gave rent in advance and she don't have to pay it anymore. Pushpa thinks that there is no way Ramesh would have given advance and the truth will come out only when Ramesh comes out of coma. Nanavati calls Pushpa and reminds her that the Canada people are coming to felicitate her with the award and Pushpa agrees to come. Nanavati says that press pople will also be present there so that it improves the ratings of the school. Pushpa agrees with him. They find things coming in few tempos. Pushpa asks whether someone vacating the house. Bpaodhara says no one is vacating and there is also no place for keeping so many things. Pushpa asks who they are.
Renovation takes place in Sonal and Manish's house and Kunjbala Maasi throws tantrums for not arranging for her comfortable stay. Manish reasons that they had emergency due to leakage which is why ahd to do the renvovation. Kunjbala Maasi is not convinced and complaints that they didn't send any household gifts for Deepti's in laws according to the tradition. Sonal and Manish reasons that there is no space for keeping extra things there and they already have everything. Kunjbala Masi is not convinced. She gets call from tempo people and she lies to Manish that she's going to temple. Kunjbala comes to Pushpa's chawl and says that they are gifts from Deepti from her side. Pushpa says they don't have place for keeping so many things at house but Kunjbala Maasi taunts Bapodhara and asks him to rent extra lace for keeping the things. Bapodhara says he don't have any extra space for it but Maasi doesn't listen. She urges them to take things inside. Pushpa calls Manish and explains the situation to them. They agree to come there soon. Pushpa asks Ashwin and others to take the things in while she makes Maasi sit in chair.
Sonal and Manish comes there and they try to convince Kunjbala Maasi regarding the stuffs. Maasi stays firm in her decision while Sonal and manish feel helpless. Kunjbala Maasi wants to go to washroom and Rashi helps her. Pushpa looks bewildered at the piled up things. Sonal gives few things of Deepti which are essential for her. Pushpa finds Sonal and Manish upset with Deepti's separation and cheers them. She says about her felicitation in the evening. Pranav forges Pushpa and Kaku's signature. Kaku comes there and Pranav suggests to bring the kids there too for Kaku. Kaku agrees while Varsha smirks.
Precap : Kunjbala Maasi will wish to go to her hometown Vizag but Deepti says when she can't even go to washroom how will she go to Vizag. Kunjbala Maasi will suggest to stay there so that Deepti can take care of her shocking everyone.
Click to read