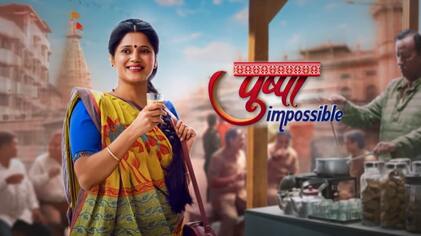 Pushpa Impossible 15th November 2023 Written Update on TellyExpress.com
The episode starts with Chirag checking Bapodhara's Bp. Susheela asks how his B.P. is. Chirag says it's high and gives him a tablet. Bapodhara tells Susheela that his work will increase as the campaign is in 2 days. Susheela and Chirag ask Bapodhara about his election symbol. Bapodhara says he chooses the vadapav symbol but the Party member wants him to change it. Chirag tells Bapodhara that the Roti symbol is perfect for him. Bapodhara says it's not good. Susheela asks them to finish breakfast and says she is going to Mahindra's shop to give him a list. Chirag stops him and tells her that he will give the list. He takes the list and leaves.
Bapodhara says Chirag can never win his trust. Susheela says it's happening slowly. Chirag gives a list to Mahindra and asks him to send things home. Rashi meets Chirag and asks him to bring the album to her so she can put her and Dileep's photos in it. She reminds his promise to make her meet Dileep in jail. Chirag says he will talk with Inspector and arrange a meeting.
Kaka asks Pushpa to give work to Neelima. Pushpa agrees. Binesh comes to Ashwin's house for dinner. Ashwin requests Binesh to not reveal the tender scam to anyone. Ashwin introduces Binesh to his family. Pushpa asks Binesh why he made Ashwin get drunk. Binesh says he didn't know that Ashwin was a non-drinker. He apologises to Pushpa. Pushpa forgives him. Binesh says they are getting late for dinner.
Ashwin serves food to Binesh. He stops him when he is talking about Chirag. Deepti notices them. Bapodhara tells Party members Chirag's party symbol idea is his idea. Party members approve of the symbol. Chirag gives B.P. medicine to Bapodhara. Party member says Bapodhara is lucky to have a son like Chirag. Deepti calls Chirag and informs him that Binesh is leaving.
Chirag overhears Ashwin and Binesh's talk and thinks his doubt on them is correct. Rashi places photos in the album. Pushpa asks Rashi what's troubling her. Rashi requests Pushpa to allow her to meet her dad in jail for once. Pushpa doesn't agree with it. Rashi says she will meet her dad in jail no matter what. Pushpa asks Rashi to not not forget about Dileep's wrong deeds and says Dileep is the ended chapter in their life. Rashi says she made a mistake by asking her permission and says no one will stop her. Pushpa shares to Jugaal about Rashi's behavior. Juggal advises Pushpa to allow Rashi to meet her father.
Episode ends.
Precap – Ashwin warns Chirag to stay away from his office work. Chirag asks why he is scared and asks if he did anything wrong.
Click to read