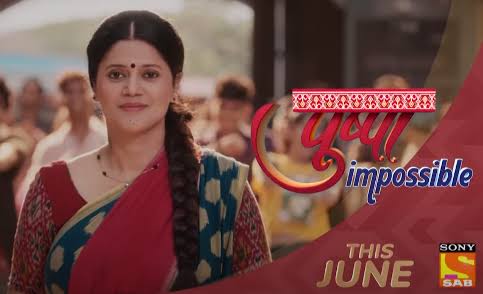 Pushpa Impossible 16th January 2023 Written Update on TellyExpress.com
The episode starts with Pushpa and Deepti going to police station and Ashwin and Chirag follows them. Deepti says DCP that they would follow their car in their vehicle Chirag calls Manoj and gets to learn that they are going to hospital to identify Dharam Raidhan. Ashwin and Chirag fear the worst. They leave and Chirag asks Ashwin what's the connection between them and Dharam Raidhan that Police wants to connect them with him. Pushpa arrives at the hospital and dentifies it as the same hospital where Dharam Raidhan is submitted. She wonders if they are there to identify him and gets scared. DCP takes her in. DCP comes into Dharam's room and asks about his health. DCP says that they are there for another test. Mansi says that they already got the fingerprint test but DCP says one last test. Chirag controls Ashwin from reaching out to Pushpa. DCP says that fingerprint can be tampered and Mansi gets offended with the way she treats her father like criminal. DCP makes Mansi out and asks Manoj to bring Pushpa in. Mansi comes out and Deepti leaves in with Pushpa. Pushpa gets shocked seeing the exact same face as Dileep so does Deepti. Pushpa gets scared. DCP asks whether he saw Pushpa before and he says yes.
Ashwin comes there and Mansi demands an explanation from him. Rashi comes home to find no one. Prarthana also comes there and Rashi leaves to make snack for her. DCP asks how did she knew Pushpa and Dharam says he met with her only two days back as his employee Ashwin Patel's mother. He apologizes Pushpa for troubling her as her husband's face matches with him. He says it's ridiculous to identify them as the same when even their fingerprints don't match. He asks her to say DCP that he's not her husband and end the matter. Pushpa cries hard. Prarthana calls all the four but none answers. She says the same to Rashi. Mansi says that it's ridiculous to think that if someone's voice and face resembles her father then they are the same. Ashwin also don't want his mother to enter into the mess and wants the matter to end. DCP asks Pushpa about her opinion. She says that the face is identical but she says that he can't be her husband.
Pushpa says that the way Dharam Raidhan spoke with her with politeness, it's something Dileep Patel never did with her. She says he apologized her and respected her which Dileep Patel never did. She also adds that he's a millionaire and it can't be that way. She finally says that it's not her husband. Dharam asks if she's cleared and DCP says law only believes in proofs. Dharam says that it's DNA test and requests her to perform the test and the matter. DCP says that she is forced to do it. Dharam explains about DNA test to Pushpa. He's ready to take up DNA test and DCP agrees to do it and promises to let him go when the DNA test prove negative. She called Mansi in and Pushpa gets shocked seeing Ashwin and Chirag.
Precap : Mansi will be angry at DCP for troubling them further with DNA test. DCP will say that it's not her wish but it's a needed for the law. Ashwin will come there and is ready to co operate with DNA test to end the matter.
Click to read