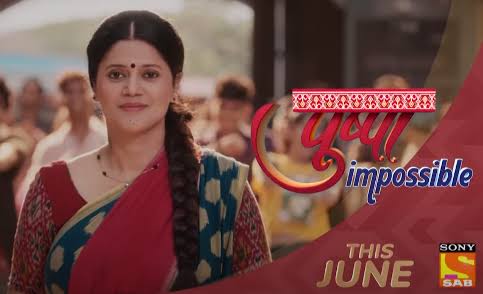 Pushpa Impossible 16th November 2022 Written Update on TellyExpress.com
The episode starts with Sonal worried about so much things at house. Pushpa suggests to send it to their house once Kunjbala Maasi is gone. Manish says that he already asked for some place in company go down to arrange to kee the things. Pushpa calls it a better idea. Pushpa sees Sonal peeping at Deepti and hugs her. She understandsthat Sonal is missing Deepti and comforts her. Ashwin and Deepti are romancing when Chirag comes there. He feels awkward and leaves taking his things. Pushpa also is about to barge in but they didn't notice her. She feels embarrassed. Rashi barges in and gets Deepti's things which is not liked by Pushpa.
Pushpa gets Nanavati's call who asks her to come to school soon as the delicacies will be there any minute. Pushpa agrees to be there on time. Rashi asks how could she attend the ceremony and Pushpa says they need to find a way once Kunjbala Maasi leaves. Kunjbala Maasi boasts about her house and Pushpa teases her. Kunjbala Maasi is about to leave when she hits her leg in table and winces in pain. Nanvati keeps calling Pushpa but she doesn't pick up. He gets irritated. Doctor comes to treat Kunjbala Maasi and everyone stands out. Canada delicacies are upset with Pushpa who couldn't attend the ceremony even at their place. They urges that they have a flight soon and gives the cheque to Nanvati. Nanavati si upset with Pushpa's irresponsible behavior.
Doctor treats Maasi who gets violent. He says that she has fracture and suggests to get her admitted. Pushpa takes help from chawl people who are ready to help Pushpa to shift things. Pushpa makes tea with Deepti when Deepti showa her the missed calls. She calls Nanavati and explains her situation to him. Nanavati saysa that he can understand her situation but the delicacies where upset with her as they came there from so long for her.Pushpa feels bad while Deepti apologizes on behalf of her grandmother. Pushpa says that it's fine and says relations over anything. She's still upset. Pushpa and everyone are sleeping on floor and Pushpa feels bad that Deepti has to suffer with them. Deepti says it's fine and asks her not to worry. They suddenly hear Maasi's cries.
Precap : Kunjbala Maasi will wish to go to her hometown Vizag but Deepti says when she can't even go to washroom how will she go to Vizag. Kunjbala Maasi will suggest to stay there so that Deepti can take care of her shocking everyone.
Click to read