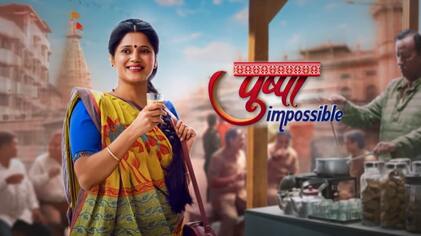 Pushpa Impossible 17th November 2023 Written Update on TellyExpress.com
The episode starts with Deepti preparing the next day's consignment delivery with the help of Pakiya. Deepti and Pakiya leave Tana Bana after arranging cartons. Pushpa tells Juggal that it's really tough to handle kids. She says she forgot that Dileep is Rashi's father too and he guided her correctly. Pushpa agrees to send Rashi to jail to meet Dileep. She asks Juggal to accompany Rashi to jail. Rashi who comes there overhears it. She thanks Pushpa for accepting her request.
Chirag tells Ridhi that he doesn't know how to finish this scandal scam story. Ridhi asks him to talk to Ashwin once. Chirag says it's the only way left. She receives Prathna's call and leaves for college to meet Prathna.
Voting people come to Chawl to note the voter's list. Bapodhara tells them that Prathna is part of his family. Next Pushpa tells them that Prathna is her second daughter in law. Prathna confirms it which disappoints Bapodhara. Pushpa asks Ashwin to drop Prathna in the college. Prathna leaves for college to meet Chirag. Ridhi tells Chirag about the Merge company who lost the contract in less difference. Ridhi and Chirag decide to meet Merge's company head and leave from the college.
Ashwin drops Rashi at the college. He tells Rashi that he wants to meet Chirag. Prathna calls Chirag and gets to know he went to Merge company. She informs Ashwin about it. Later, Ashwin follows Chirag and keeps an eye on him.
Deepti tells Pushpa about the adoption procedure. At that time Sonal and Manish come there and inform Deepti that they are leaving to Naani's place for her treatment. Sonal asks Deepti to manage her work. Deepti agrees.
Ashwin and Ridhi wait near Merge company restaurant. They get to know important information from one of the employees. Kaku comforts Pushpa.
Juggal says to Rashi that Pushpa put a rock on her heart to allow her to meet her father in jail. Juggal asks Rashi not to test Pushpa again. Rashi agrees.
Pushpa talks with Dadi and says to Dadi that this is the first and last time she will allow Rashi to meet her father in jail.
Chirag returns to the chawl. Ashwin comes to Chirag and takes him to aside. Ashwin asks Chirag what is he doing? Ashwin argues with Chirag. Chirag asks Ashwin why is he having this much trouble with his assignment. Ashwin asks Chirag to stay away from his office and his colleagues. Chirag asks Ashwin if he is hiding something from him. Ashwin asks Chirag what did he say holding his collar. Pushpa comes to Chirag and Ashwin. Ashwin leaves Chirag.
Episode ends.
Precap:- Chirag shares his suspicion with Deepti about Ashiwn's involvement along with Binesh in the tender scam. Bapodara overhears their conversation.
Click to read