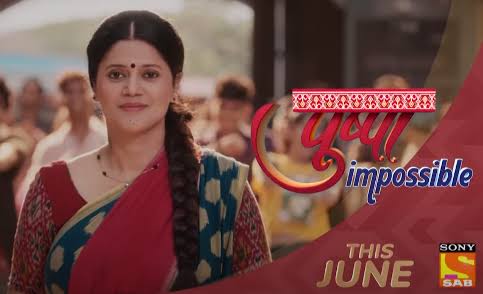 Pushpa Impossible 17th September 2022 Written Update on TellyExpress.com
The episode starts with Pushpa coming home upset. Rashi gives her water and Pushpa drinks it. Rashi says that she's relieved that all the students are safe. However she believes that she'll also give retest along with other kids. She's about to leave when Pushpa holds her and hugs her crying. Rashi asks what happened and Pushpa lies that she was worried what she would have did if she was ill too. Rashi says it's thanks to her oats pizza that she, Parminder and Sam were also loved else they would've also had food from canteen for birthday party. She's proud of Pushpa and hugs her. She asks her to prepare her for her retest and goes to meet Ashavari. Pushpa recalls Nanavati's words and wonders how would give retest as its not possible.
Pushpa cries alone over her situation. Ashwin asks Pushpa if she's fine as he got to know about what happened ik school. Rashi says that their mother became hero in school in a day. Pushpa asks what's the use of becoming hero when she would get zero in exam. Rashi gets confused at her words. Chirag comes there with his sign board "PC creations". When asked about it he says about his business and also says about Prarthana being the seed investor. Ashwin is worried about Bapodhara but Chirag convinced him. He says that P in Pc stands for Pushpa, Prarthana as well as Pandey. It can be taken as anything as he's going to open his business in a part of Munna's place. Pushpa reminds him that Bapodhara is the owner of the shop and he needs his permission to start the business. Chirag says that it's her job to get his permission letter and Pushpa wonders how. She then asks Ashwin to write a marriage invitation card on Bapodhara's name.
Pushpa visits Bapodhara with respect and Bapodhara is shocked seeing her respectful behaviour. Pushpa enters her house in the pretext of inviting him for Ashwin's marriage. He invites her in grudging and Pushpa asks him to forger the hatred for Ashwin who grew up in front of him. She says that though they can't be friends they can atleast not be enemies. Bapodhara agrees to send Prarthana and Susheela. Both refuses to attend without Bapodhara's presence. Bapodhara says he'll think about. Pushpa says about Damini Mehra asking her to get his permission letter for Chirag to use Munna's shop for his business.
Bapodhara got scared hearing Damini's name and asks her to leave the letter as he'll think about it. Pushpa says Susheela that P stands for Prarthana and asks her to handle Bapodhara somehow so that Prarthana could inaugurate Chirag's business. She later shares with Kaku about her unable to give retest. Kaku consoles her and praises her act. Pushpa gets message about assembly meeting from Nanavati.
Precap : Pushpa will get felicitated for her timely act while Nanavati will say that the students can reappear in test on medical grounds. Parents will ask about Pushpa but Nanavati will say that it's not possible for her to give retest according to rules.
Click to read