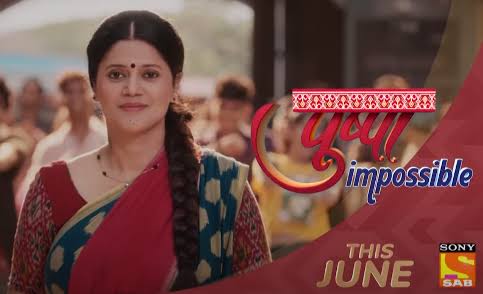 Pushpa Impossible 18th January 2023 Written Update on TellyExpress.com
The episode starts with Mansi coming to Dharam and says that she wants to inform mother about what's happening there. Dharam refuses to inform her and says they would manage. He says that once the DNA test is done it they would go back to Canada. Mansi hugs him. At Pushpa's house, everyone is lost in their own thoughts and worries. Rashi comes to Pushpa and takes the book from her. She asks her to sleep as anyhow she's not into studies. She asks if she's fine and Pushpa kisses her hand and says yes. She takes back the book but her mind is till lost in Dharam fiasco. Rashi thinks that her mother is hiding and wonders what it is. Next day, After Rashi leaves to school, Pushpa says about Rashi suspecting them. They ask what did she say and Pushpa says she cooked up studies as excuse. DCP comes there and Bapodhara and others wonder what's happening with Pushpa's family. Kaku rightly suspects that it's for DNA test.
DCP takes Ashwin with her for DNA test and she sends Chirag along with him. They both leave and Pushpa praise God to help them. Mahindra confronts Pushpa about what's happening. Pushpa asks him to wait till the difficult times end and she would say the truth to everyone. Mahindra suspects that it's something big. Bapodhara asks Susheela and Prarthana about what's happening in Pushpa house. They both have no idea about it. Susheela asks about redevelopment plan and Bapodhara says everything was going well when suddenly everything went wrong. Susheela suggests him to give equal share to Sunny that could be profitable for both themselves and Sunny. Bapodahra doesn't agree. Nurse draws blood from both Ashwin and Dharam for DNA test. Teacher gives test to Pushpa and asks Aryan to write it for her. He also voice records it so that he could compare it with her answers later. Exam starts but Pushpa is lost in Dharam's thought. Rashi encourages Pushpa to say the answer and expresses his trust on her. Pushpa breaks down crying. DCP says that in some time, they would get to know the truth.
Nanavati asks Pushpa why she is not writing and Pushpa says she is not remembering anything and is going blank. They call after her but Pushpa leaves upset. Chirag wishes that the DNA test result is negative but Ashwin says it will take two days. Nanavati calls Deepti and narrates what happened. Deepti says that there is an issue and Pushpa will say herself to him. Rashi is shocked when Aryan says what happened. Rashi calls Deepti and confronts her about what's happening. Deepti says nothing and asks her to come home. Rashi leaves immediately. Pushpa barges into Dharam's room. She says that DNA test result doesn't matter to her as he's dead for them long back. She warns him that it's better if he's not Dileep and even if he's then he needs to stay away from her family and kids. Mansi rushes in seeing Pushpa angry at Dharam and scolds Pushpa. Dharam takes Pushpa's side saying that she isnot in her right mind due to stress. Pushpa leaves .
Precap : Lawyer will say Dharam that it's better for them if the DNA results are negative. Ashwin will get called in and Doctor will be about to announce the result.
Click to read