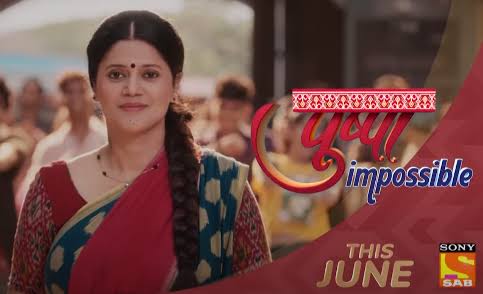 Pushpa Impossible 18th November 2022 Written Update on TellyExpress.com
The episode starts with Maasi searching for her things. She calls Manish and Sonal forit and they say it will be somewhere there. Manish suggests to go home with them as it's mess from the day of marriage. Maasi says that she have trouble breathing. Manish suggests to go to hospital nut she refuses to go there no matter what. Manish asks her to go to hotel as they can't trouble their in laws. Pushpa says it's not like that it's just that she would feel suffocated and won't even eat or drink anything there.
Maasi asks her to say straight that she's a burden to them. She suggests to go to her hometown but Deepti says she can't go to her home town as she can't even move. She asks her to adjust for two days and she would come there to hometown with her. Maasi says it's not possible as she needs to be there and suggests that she would stay there till she recovers. She ask Manish and Sonal to bring her things and goes to rest. Manish and Sonal tries making her understand but in vain.
Deepti and Ashwin decides to postpone their honeymoon trip. Sonal and Manish feels apologetic towards Pushpa but Pushpa says that it's fine. Sonal says whatever happened right now is nothing as there is more to her tantrums. Deepti and Ashwin say their decision to their parents.
Their parents asks them not to but they stay firm in their decision. They say that they are not planning to cancel but just postpone considering priorities. They feel bad but the couple convinces them. Pushpa gets ready to leave for school with Rashi. Maasi feels strange to see her in the attire. Pushpa explains it to her and she still find it weird. Deepti takes Pushpa's side and calls her an inspiration. Maasi agrees with her. Maasi gives her menu to Pushpa and everyone were outraged with her demands.
Deepti offers to take care of Maasi and asks her to leave to school. Maasi sends the Nurse away complaining about her. Sonal and Manish comes there and Pushpa falls on their feet for handling Kunjbala Maasi and her demands for so many years. Sonal and Manish feels bad but she says she would manage.Pushpa suggests to take Deepti with them so that she wouldn't get burdened.
Manish calls both Ashwin and Deepti but they refuse saying that it's their responsibility too. Manish then calls Chirag and Rashi and they were ready to leave. Pushpa says that they too need to learn to handle elders and refuses. Sonal and Manish leave to meet Maasi while Pushpa takes leave for school. Ashwin and Deepti roamnce when Pushpa comes there and gets embarrassed. Kaku's grand daughter ids brought by her son and daughter in law who says that she's there to take her home.
Precap : Aryan will slip on oil and will fall down stairs. He will get hurt badly while everyone gets shocked. Nanavati will say Pushpa that Aryan fell because of Rashi's bullying shocking Pushpa.
The episode starts with Pushpa taking care of Maasi. Maasi asks where they were sleeping last night. They say that they were sleeping in hall. She wants to leave saying Pushpa is taunting her but Pushpa consoles her. Chirag and Rashi discuss about Pushpa taking good care of Maasi. Ashwin says that he can very well understand why sonal came so late at night upon hearing about her arrival. Deepti says she was all alone and she herself doesn't know whether to feel angry or pity for her. Maasi complaints that Sonal didn't take care of her but Pushpa says that it's her who sent them home and assures that she would take care of her. She sends others outside and sits beside Maasi. Chirag texts Rashi to go out to give space to Ashwin and Deepti. Rashi calls Chirag out with some excuse and they leave. Deepti understands it and says the same to Ashwin. They both spends some quality time together. Rashi worries how would they manage for space if Chirag gets married. Chirag says they can think about it later. Rashi sleeps in his lap.
Next morning, Deepti sees Nurse taking care of Maasi. Rashi barges into the bathroom before Deepti does. Deepti comes to Pushpa who gives her food and says that she would go to make tiffin. Deepti suggests her to quit tiffin business as she's now there to contribute for house. If not house hold work she could help financially. Pushpa says that her tiffin business is her passion over money. She asks her not to worry as she will handle both tiffin and studies. Before Deepti could go into bathroom PChirag barges in. Ashwin leaves his turn for Deepti and they romance. Bapodhara speaks with Asthana through phone and asks his suggestion about giving receipt for something which he didn't receive. He says that he didn't receive rent for some reason and he refuses to reveal it. Asthana says that he can't help if he don't reveal. Susheela hears it all.
Click to read