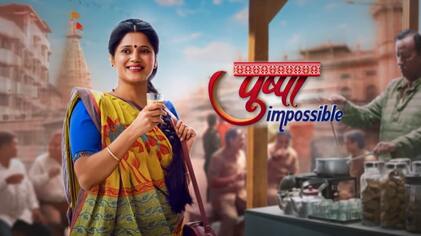 Pushpa Impossible 18th November 2023 Written Update on TellyExpress.com
The episode starts with Chirag asking Ashwin if he is hiding something from him. Ashwin asks Chirag if he is looking like a thief to him.
Rashi while going in the auto with Juggal talks about her father Dilip and recalls what happened.
Pushpa asks Ashwin and Chirag what is going on between them. Ashwin and Chirag act as if there is nothing wrong infront of Pushpa. Ashwin takes Chirag away from Pushpa. Pushpa suspects there is something going on in between Chirag and Ashwin.
Rashi and Juggal come to the police station and learn that Dilip isn't in jail but he is in sanatorium and they also learn that Dilip is in sanatorium from the past 6 weeks. Rashi and Juggal try to find out more but the constable sends them away.
Pushpa says to Prathna and Deepti how Ashwin held Chirag's collar and shares her suspicion with them that there might be something going on in between Chirag and Ashwin.
Rashi and Juggal come to Pushpa. Juggal says to Pushpa what happened at the police station. Rashi says to Pushpa that she wants to know why is Dilip in sanatorium and how is he. Pushpa agrees and asks Rashi to concentrate on her studies. Rashi agrees.
Ashwin calls Binesh and asks Binesh where is he. Binesh says he is at their Adda. Ashwin says he will come there in a while.
Deepti says to Ashwin that they should look at the application form for the orphange. Ashwin says he will see it later and leaves from there.
Pushpa recalls what happened and thinks she feels like everyone is in some kind of trouble.
Bapodara asks Chirag what story is he working on. Chirag teases Bapodara saying he is writing a story on run away couples. Bapodara comments on Chirag and leaves from there.
Ashwin asks Binesh if there is a chance for them to be caught. Binesh says there is no way they will be caught as neither he nor Binesh will open their mouths. Ashwin asks Binesh what will happen if the truth comes out. Binesh says he will take complete responsibility for it. Ashwin gets stunned hearing this.
Pushpa worries about Dilip re-entering their lives if she tries to find out about Dilip. Juggal says until Rashi has answers she will not calm down and asks Pushpa to just focus on that.
Chirag recalls Ashwin's behaviour at the time of the tender. Chirag calls Deepti and asks Deepti to come to the terrace. Deepti agrees. Bapodara overhears Chirag's conversation with Deepti.
Episode ends.
Precap:-Chirag shares his suspicion with Deepti about Ashiwn's involvement along with Binesh in the tender scam. Bapodara overhears their conversation.
Click to read