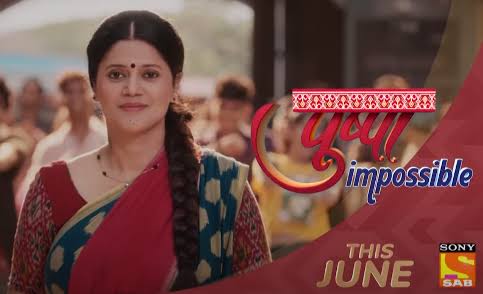 Pushpa Impossible 19th December 2022 Written Update on TellyExpress.com
The episode starts with Deepti sharing about missing the handloom which she brought for Pushpa from Paattan to Chirag. Chirag suggests to contact the agency which they used to hire the taxi. Chirag and Deepti visited the agency and they managed to contact the driver. The Driver told that the parcelis with him and he would bring it to them. Ashwin gets Deepti's message and takes Pushpa to terrace for a surprise. Pushpa gets emotional seeing the handloom and thanked Ashwin and Deepti. Deepti says about getting it for her so that she could repair the damaged saree. Pushpa imagines her father and got emotional over the same. They decide to rent the terrace to keep the handloom there. Next day Pushpa and Rashi were about to leave to school when Pushpa bumped with Bapodhara who angrily cursed her in his mind for creating problems between him and his wife. However they both kept quite for the sake of Rashi. Bapodhara asked her to bring the affidavit signing as he has paper work to do and asks to do the same with Radha Kaku. Pushpa refuses to sign it before consulting with lawyer and leaves with Rashi. Bapodhara thought to get sign from Bharti too.
At school, Rashi and her friends are discussing about stalls. Rashi finds Aryan alone and suggests to take him in their group but her friend is against it as she don't want any issues. Pushpa sees it all and thinks it's the right time to get Aryan to mingle with other students. Deepti joins in her new job as Vice President of Janani Group Of Companies. They give her the same project as Ashwin and Deepti finds that it's similar. She says that she can't afford to work in the same project as he r husband for rival company and requests them for a different project. They give another project to her and she happily accepts it. The CEO makes another plan in mind. Bapodhara gets ready to leave to Surat to meet Bharti and says the same to Prarthana and Susheela. Susheela acted normal in front of him for the sake of Prarthana. Pushpa calls Saran Sir and says something about Aryan.
Saran calls all the students and announces that Aryan is the banner Designer for their stalls and asks them to give their ideas to Aryan so that they could make a banner for them. He also adds that they would get special prize for Banner Design too. First Rashi's team give their content followed by others. Psupa praises hsact. Bqapodhara consults about the suicide letter with his Lawyer. Lawyer says that the letter has no value as neither his brother's name is written there nor his name. he says it is incapable to get him punished and Bpaodhara sighs in relief. Pushpa is fixing the saree in the handloom when Deepti comes there with tea. She asks how long will it take for her to repair and Pushpa answers three months and for a saree it is one year and 6 months. Deepti is astonished over the effort put to build a saree.
Precap : Mansi's father will be revealed to be Dileep Patel. Pushpa will come to Ashwin's office while Dileep will be on video call with Mansi on big screen for a meeting. Pushpa will be very close to seeing Dileep on screen
Click to read