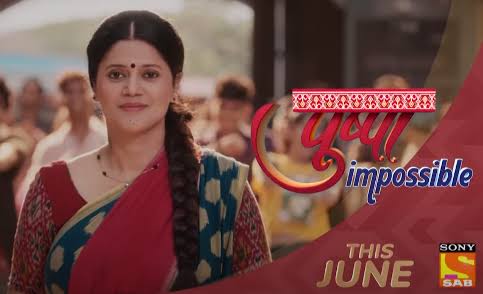 Pushpa Impossible 19th July 2022 Written Update on TellyExpress.com
The episode starts with Pushpa complaining about her studies. She looks at Bapodhara and Bapodhara also sees her. He mocks her writing that there's only 21 days left. Pushpa answers back in the same way and Bapodhara leaves. Pushpa gets worried. She recalls Rashi being very much unwell when everyone else in the Chawl praying for her. Kaku comes there and asks Where's she lost. Pushpa says about her memories with the Chawl. She asks how will she go leaving it. Kaku says that they are with her in her difficult time. They both pray to God. Kaku gives example of Lord Ganesh's one trunk and asks her to do well in her exam the next day. Pushpa resumes her studies.
Next morning, Pushpa wakes up and gets shocked as the alarm didn't ring and hurries up everyone. Ashwin asks them not to worry as they will take care and asks Rashi and Pushpa to concentrate on getting ready for exam. They both were studying and Chirag and Rashi argue with each other. Pushpa shuts them and Ashwin shows her Chirag and Rashi patch up. She rushes out with Rashi when Golu stops her and feeds her Prasad. Pushpa hugs him and thanks him. Mahendra and Golu wish her good luck. Pushpa gets in auto with Rashi and Golu feeds her Prasad too.
Sonali says Manish that she knew Pushpa would not agree for his offer. Manish jokes with her. Sonali says jokes apart, she wonders how can the owner all of a sudden gives notice to Pushpa who was living there for years. Deepti comes there and says that it seems like the owner is getting revenge for an old issue with Ashwin's father on Pushpa. Sonali calls it unfair and Manish says that they may just a rental house for Pushpa in case if they couldn't find a way out. Deepti says both she and Ashwin were already working on it and are going to see places after work. She takes her leave and Sonali is proud that Deepti already considers the family as hers. Manish jokes with her.
Chirag gives the chit to Lawyer Amar who says it would be of no use. Susheela gives the order copies of the canteen and Lawyer says it will be helpful but not completely. Bapodhara finds the house locked and learns from Kokila that Susheela went to Pushpa's house. Bapodhara comes in search of her and Susheela hides behind sofa. Bapodhara warns Amar for siding with Pushpa and going against him but Amar doesn't get faltered. He notices his bowl there and asks if Susheela is there but they deny.
He spots the order list brought by Susheela but Chirag saves her lying that it's their copy and they have many of it. Bapodhara mocks that they can't win against him with all these small things and leaves warning Amar. Chirag thanks Susheela for going against her own husband for them and Susheela blesses him.
At school, everyone gets ready to write the test. Pushpa gets happy after finding the questions she studied and thanks God for it. Rashi couldn't concentrate on the question as she's disturbed with Aryan's thoughts. Pushpa notices Rashi not started writing yet and thinks she doesn't know the answer. She prays God for Rashi too.
Precap : Pushpa will get a bad news from Amar that her stay order plea got rejected. Pushpa will vent out to Kaku of Rashi missing and her losing the case. Rashi will be coming to Aryan's birthday party. Pushpa will be fed up of facing all the problems at a time.
Click to read