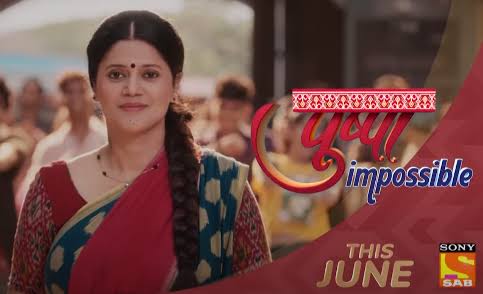 Pushpa Impossible 1st November 2022 Written Update on TellyExpress.com
Episode begins with Pushpa and ladies joke about whose initials should be written in whose hand. Kaku appreciates the preparation of Mehendi and prays for everything to happen smoothly. Kaku asks Pushpa to put mehendi as well. Deepti sees them all in pictures then she asks her helper to video call Ashwin. Ashwin gets Deepti's call and they show each other their mehendi. Deepti says I enjoyed watching the pictures. Deepti shows her Mehendi as well. Deepti says now you will have to find the first letter on the first night. Ashwin says I am not that stupid to spend our first night looking at your hand. Ashwin asks for everyone else. Deepti says we just returned from the banquet hall. The door bell rings and Sonal gets worried thinking her mother in law will be back. Deepti also cuts the call. Sonal opens the door and sees Dadi and Manish. Dadi says you have not written Shubh Labh on door and there is no decoration on the door for daughter's wedding. Manish says Sonal wanted to ask you everything before doing it. Sonal nods. Deepti comes all excited. Deepti takes blessings and then hugs her. Dadi compliments her mehendi. Sonal asks Dadi to enter. Dadi says after 3 minutes as now the time is not right. Sonal asks Sarita to bring water but Dadi says not now only after entering. Dadi sees the glass and says I will eat only in metal glass I got.
3 minites pass and Dadi gives her glass to Sonal. Dadi asks for water from mud container. Manish says I will bring it. Dadi says okay bring it fast. Manish says you get freshened up then we will go to chawl for sangeet. Dadi gets shocked and angry. Dadi says you are marrying our educated Deepti in a chawl. Sonal says it's love marriage. Dadi says so what you should have seen the place and family. Manish says they live in chawl but are good people. Dadi says I need to see how Pushpa is as Deepti will have to live with her. Manish asks Dadi to bath. Dadi says about seeing the vastu first. Sonal and Deepti look tensed and irritated. Here, Pranav comes to Varsha and informs about police calling him. Varsha says we came here with so much difficulty and left our troubles there, now what.
Pranav and Varsha remember how in Pune they were in police station for doing fraud and creating fake papers and taking loan. Varsha and Pranav sell Kaku's Pune house to get them out of trouble. Flashback ends. Pranav says now we are homeless and we don't know how Kaku will react. Varsha says she doesn't need to know only, and soon this house will be ours and Pushpa will get Kaku to sign the papers. Pranav says you are the best. They get happy thinking their financial problems will end.
Here, Dadi complains about puja ghar being in wrong vastu. Dadi then opens her luggage where there is a grinder. Dadi says I eat by grinding my own wheat and this way exercise also happens. Dadi then asks Sonal if she matched Ashwin and Deepti's kundli. Manish says it's love marriage so. Dadi asks Sonal again. Sonal says no we didn't. Dadi says you need to match the kundli or else I won't let the marriage happen, maximum gun should match. Dadi asks for hot water boiled on gas as gyser might explode. Dadi goes. Sonal and Deepti worry about kundli. Sonal asks Manish to get a pandit and give some money to make him say 30 gun matches of the bride and groom. Sonal says I feel soon I will get a heart attack.
Here, Pushpa compliments Ashwin. Rashi and Chirag come and joke about Pushpa being always with Ashwin. They all joke about Ashwin doing nagin dance in baraat. Pushpa makes them stop and they hug. Pushpa says from tomorrow Deepti will also be part of it. Then Deepti sees Mehendi and says everyone put Mehendi but Prarthna didn't all because of Bapodhara. Here, Dadi does puja and Sonal starts coughing due to smoke. Dadi again asks about kundli. Deepti says our both's kundli is in Ashwin's house. Dadi says that's good, we will see the kundli there and meet them too. Dadi sees Sonal sweat so she asks her about the matter. Sonal says actually we are getting late so I got worried. Dadi says I am coming wait. Dadi goes. Sonal worries thinking Dadi will create the scene in chawl and will trouble Pushpa as well.
Episode ends.
Precap – Dadi taunts Pushpa for Ashwin trapping a rich girl. Manish tries to talk but Dadi stops him. Dadi asks Pushpa for kundli.
Click to read