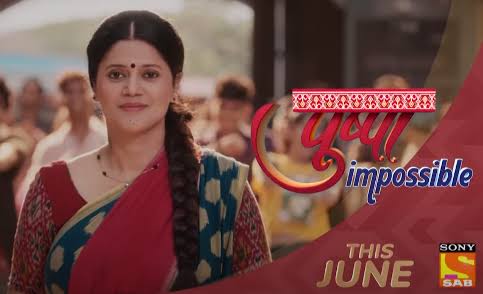 Pushpa Impossible 20th December 2022 Written Update on TellyExpress.com
The episode starts with Mansi saying her employees that they would have a meeting with her father Dharam Raidan and asks Ashwin to be present there too. He agrees and Ashwin finds that he left the important file at home. He calls Pushpa and she gets it for him. He asks her to send it through Chirag but Pushpa says that he went to college and agrees to bring it herself. Bapodhara is searching for the file at Bharti's house and Bharti offers to search it for him. Bapodhara thinks that he can't let Bharti know that he transferred his brother's share of Chawl on his name. Dharam prepones his meeting with Mansi for another meeting. Pushpa comes to Ashwin's office and by mistake goes to Mansi's cabin. Mansi is already on video call with Dharam who also happens to be Pushpa's husband Dileep Patel. Bapodhara comes back home and Prarthana happily greets him. He finds Susheela still upset and asks her to let it go. Susheela asks how could she let go off so easily when he blamed him for his murder.
Pushpa meets with Mansi while Dharam was turning the other side and is covered with laptop. Both of them couldn't see each other. Pushpa says about Ashwin leaving the file at home and Mansi rudely asks her to leave keeping the file on table. Bapodhara only says half truth to Susheela about Bharat's affair with his college sweetheart and continuing it even after marriage. He lies that he went into depression that he would expose his affair to his family which is why he wrote such letter out of spite. Susheela feels abd for doubting Bapodara. Ashwin and others come for meeting but the power goes off. So the meeting takes place on voice calla nd Pushpa gets tunned hearing Dileep's voice. She recalls her trauma but leabes the office.
Chirag is in a meeting with a real estate company for a painting contract and he gets a ransom as advance. Prarthana calls Chirag asking him to come to college. He leaves and the company plans to involve him in a risky job. They decide to make him the scapegoat if something goes out of hand and only enjoy the profit if it works out well. Pushpa come sto learn to computer and gets surprised seing the complexity of his handling. Aryan thanks Rashi for involving him in the banner duty and apologizes for his earlier mistakes. Rashi also apologizes for her act and says there is no more enmity between them. Aryan offers friendship hand but Rashi rejects it. Aryan thinks soon she would accept his friendship and he will protect the friendship for lifetime. Pushpa while typing her name recalls Dharam's voice and felt shivered at his thought.
Precap : Sunny and Bharti will call Bapodhara as they got hold of the chawl file which states that Bharat is co owner of the chawl. Bapodhara will get tensed hearing it but sunny will ask him to come directly and say everything he needs to personally. Bapodhara will faint in tension.
Click to read