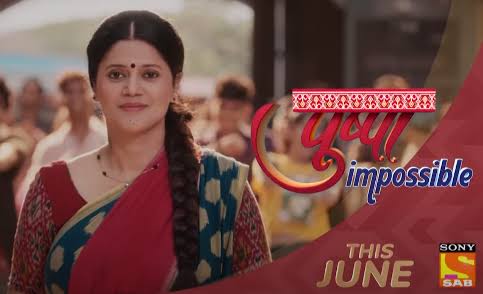 Pushpa Impossible 21st June 2022 Written Update on TellyExpress.com
The episode starts with Pushpa coming to Kaku who's resting. A volunteer Malti is taking care of her. Pushpa says she can also take care of Kaku but Malti says she took proper practice to get the job. Pushpa likes the idea and wants to join in social service too. She visits the center but the owner says that they can't hire people without minimum qualification which is 12th pass.
Pushpa tries reasoning that she can take care well and asks her to give a chance but Owner says that the people who are getting the service will demand certification before appointing her and so she can't hire her. Pushpa has no option but to give in. Bhavana calls Pushpa regarding the water issue and Pushpa says she's going to Nagar Palika. She says she needs to end the problem where it started. Pushpa gets Ashwin's call who says that he has got part time job for three hours per day for 12000. Pushpa gets happy hearing it.
Namrata gets angry seeing Pushpa but Pushpa says that she came to apologize. She says that she's not educated enough and so behaved rude with her and apologizes her. She sees that Namrata has kept water for birds and can understand her kind heart. She pleads Namrata to forgive her give back the water supply.
Namrata shows her the screen saying that she found where the problem lies when they first came itself. Pushpa says to neighbour its been two years since Bapodhara paid water and property tax which is why the water got stopped. He wants to angrily confront Bapodhara but Pushpa has other plans.
Pushpa and other ladies asks Bapodhara to pay the tax as he has already collected it from them. Bapodhara refuses to pay the tax and asks tyemyto vacate the Chawl if they want. Chirag is surprised with his mother's calm behaviour. Pushpa shows Bapodhara a video call where Namrata is connected. Bapodhara gets scared when Namrata threatens to call Police as he collected tax money but didn't pay it. Bapodhara agrees to pay it for sure and Chirag praises his mother.
Bapodhara grows vengeance against Pushpa while Prarthana fears that it could affect her future with Chirag. At Ashwin's office everyone learns that Deepti and Ashwin are getting married. During meeting, Deepti behaves rudely with Ashwin and his co workers tries provoking Ashwin against Deepti. Ashwin is clear in his stand and Deepti also apologizes to him in private. Ashwin understands her.
Pushpa shares with Kaku about her being uneducated which is why she couldn't able to move a level in any way. Kali gives her example of Savitri Bhai and asks her to pursue her education. Pushpa is hesitant to pursue education at this age but Kaku encourages her. Next day, Ashwin, Chirag and Rashi get ready for work. A guy comes and asks Pushpa to sends the order size wise.
Pushpa couldn't understand but gets surprised knowing that the guy working under her also is educated enough to understand it. She prays God for a way for her to continue her education. She hears two ladies talking about evening school and gets an idea.
Precap : Pushpa will share with her friend about her interest to join school but couldn't able to find the source. Her friend will say that there's someone who would help people and will ask her to get help from him. Pushpa will ask for his name and he will say Mr. Ashutosh Nanapatel.
Click to read