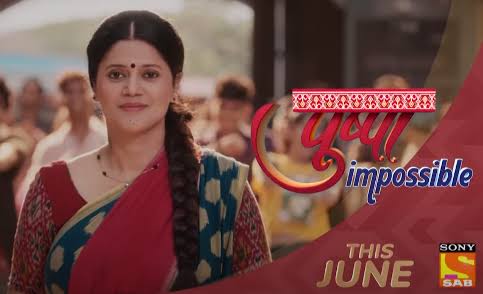 Pushpa Impossible 21st November 2022 Written Update on TellyExpress.com
The episode starts with Pushpa coming to talk to Mahendra. He expresses his concern over Maasi staying at Pushpa's house and calls it strange. Pushpa says she too felt the same but also says that it's mainly because of Maasi's hatred for Sonal. She says that she keeps complaining about Sonal and plans to do something about it. She gets an order of 150 paav Baajis for dinner. She says that she would not take it but agrees on their face.

Bapodhara is about to leave from Surat when his brother's wife asks him to stay for few more days with her and Sunny in the next time when he comes. He takes his leave. Manish comes to meet Kunjbala Maasi when Pushpa tries speaking with Sonal. He gives them Prasad from temple and she calls Pushpa. She says about her food and Pushpa says its getting ready. Rashi takes her leave to school and before leaving she write well wishers note in her bandage. She says that it's youngsters way of wishing a speedy recovery. Kunjbala praises Pushpa's upbringing and says Manish that he found a good in laws for Deepti. She says that she's so used to live alone that being with so many is weird but gives a good feeling. Maasi still complaints about the size of the house as Deepti had to stay in kitchen.
Rashi is about to leave when Ashavari asks her to wait as she offers to drop her. Pushpa gets call from opera coaching class staying that Rashi took lots of holidays and has very poor marks in test. Pushpa agrees to look into it and cuts the call. She confronts Rashi about the same who makes excuse of festival, marriage and Maasi's visit. Pushpa asks her to not cook up excuses as Maasi came home only after her exams which is definitely not the reason for her low marks. She says that she could go to any place to study from terrace to others house but it's her inefficiency to under perform in test. Ashavari comes there and Rashi escapes with her. Pushpa finds Kaku with Meethi and asks about it. Kaku says she's leaving to Pune on Meethi's insistence. She asks her to take care of the house until she returns and Pushpa takes her blessings. She calls for Ashwin.
At school, Rashi notices Aryan coming and spreads soap water on floor to make him. However, due to bad luck, Aryan slips and falls down on stairs and he sees the bullies before falling down. He gets severely injured while others gets shocked. Pushpa is making wheat flour using the hand grinder and teaches how to use it to Sonal. Sonal continues grinding as Pushpa leaves for another work. She secretly films Sonal grinding the flour. Rashi's friends overhears Doctor saying about Aryan condition to Saran Sir. Pushpa gives the food made from the flour to Maasi and also says that Sonal ground it. Maasi doesn't believe it but she proves it with video. Maasi gets extremely happy and blesses Sonal. Sonal gets emotional when she herself feeds her. Sonal thanks Pushpa silently.
Precap : Nanavati will say Pushpa that this time the matter had went out of hands. He will say that Aryan fell from stairs and is badly injured due to Rashi's bullying shocking Pushpa. Pushpa will confront Rashi and will ask her to end the matter apologizing to Aryan. Rashi will say that she will not apologise no matter what.
Click to read