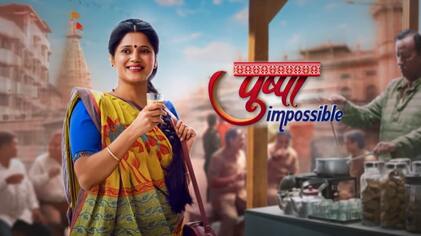 Pushpa Impossible 21st November 2023 Written Update on TellyExpress.com
The episode starts with Pushpa trying to convince Prathna to attend Bapodhara's event. Prathna refuses to attend her father's event as he didn't invite her in-laws. Pushpa prays to god to show her a way. At that time, Bapodhara comes there and invites Pushpa and her family to his event and leaves. Pushpa tells Prathna their problem is solved. Rashi asks Pushpa to pray to god to let her know about Dileep's whereabouts.
Chirag tells Deepti that he will not reveal Ashwin's name in the scam. Rashi reads the paper and finds out that criminal Guru Bhasin attacked Dileep and escaped from jail. She shows that news to Pushpa and pleads with her to allow her to meet the police to learn about Dileep's state.
Mayur asks Ashwin to arrange his interview with Chirag. To avoid the situation, Ashwin calls Binesh and talks to him like he is talking to Chirag. Ashwin tells Mayur that Chirag is out of town and he will arrange the interview later.
Rashi, Pushpa, and others come to meet Amir to know more information about Dilip. Amir says he will find out more information and contact them later. Rashi asks Amir if she can meet Dilip. Dadi asks Rashi to first allow Amir to find out more about the situation. Pushpa asks Prathna to keep his matter in between them. Prathna agrees.
Chirag couldn't concentrate on his studies thinking about the story. Susheela asks Chirag why is he looking like this. Chirag says he is feeling head ache. Susheela says she will bring tea for him. Susheela leaves from there. Bapodara asks Chirag if he is hiding something from them. Chirag says there is nothing like that.
Deepti shows the accounts of Pushpa's business. Pushpa praises Deepti as she handled it really well. Pushpa shows the accounts to Juggal and says he can take money from this if he wants. Juggal says it's time to invest this money back in the business. Pushpa agrees. Pushpa and Juggal talk about Rashi worrying about Dilip.
Rashi thinks of Dilip being hurt by others. Rashi comes out of her day dream. Prathna asks Rashi not to worry and says Dilip will be fine. Rashi worries about Dilip. Prathna comforts Rashi.
Ashwin and Chirag meet each other. Ashwin asks Chirag about his tender scam story. Chirag says he is not doing that story anymore and says someone else is doing it. Chirag warns Ashwin that if he is doing anything wrong there is still time to back off. Ashwin says whatever he is doing he is doing it for their family. Chirag comments on Ashwin and leaves from there.
Episode ends.
Precap – The police come and inform Rashi that Dilip is being released from jail after 2 weeks as he was attacked in jail and his mental condition isn't good.
Rashi comes to Pushpa and says to Pushpa that Dilip is going to be released from jail after 2 weeks.
Click to read