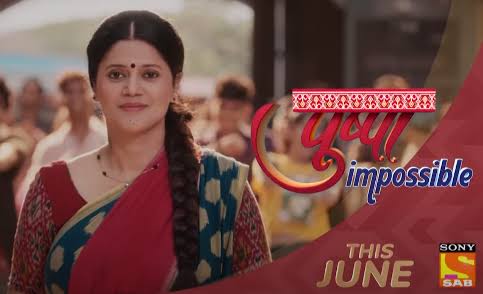 Pushpa Impossible 23rd June 2022 Written Update on TellyExpress.com
Episode begins with Rashi enters her house. She disturbs Pushpa when the latter was cleaning the house. She gives jasmine flower to her and thanks her for becoming her first guru and hugs her. Pushpa asks her that what happened to the latter today. Rashi tells her about Ashutosh. She says that she want to become like Ashutosh and inspire others and she goes inside. Pushpa gets happy that she got details about Ashutosh.
On the other hand, Ashwin tells Deepti that presentation going well and they can present it to Mrs. Roy on time. Deepti tells him that she wants them to get this deal. He tells her that his mother taught him to work hard. He informs her that how much Pushpa struggled in her life. She tells him that she is so proud of his mother and she is so proud of him too.
In the school, Pushpa meets Principal and tells her that she want to meet Ashutosh. Principal tells her that she can solve the latter's problem. Pushpa tells her that she wants admission for herself which shocks the latter. Principal tells her that even Ashutosh can't help her in this matter. Pushpa tells her that she want to try. Principal tells her that she will give Ashutosh's contact details to her after getting permission from Ashutosh. Pushpa requests her to not tell about it to Rashi and leaves from there. Rashi sees Pushpa leaving from Principal's office. She asks Principal that why Pushpa came. Principal lies to her that Pushpa came to learn about the latter's extra classes.
Pushpa notices that Ashutosh leaving and follows him. Security guard stops Pushpa from entering the house. Pushpa tries to butter him but he does not let her enter the house. So she waits outside. Chirag sees Bapodhara. He recalls that how Prarthana told him that Bapodhara left to meet a builder. And how he malfunctioned Bapodhara's car. He asks Bapodhara that what the latter doing in the middle of the road. Bapodhara tells him about his car. Chirag offers lift but Bapodhara refuses and asks him to call any mechanic.
Pushpa breaks the light after giving money for that light to Security guard. Mechanic tells Bapodhara that he wants 7000 to repair the car. Bapodhara gets shocked hearing him. Chirag says that Bapodhara will give 5000 only. Bapodhara gives 5000 rupees to Mechanic. Mechanic repairs the car. Bapodhara leaves from there. Mechanic gives that money to Chirag.
Security guard tells Ashutosh about Pushpa. Pushpa introduces herself to Ashutosh. Servant Balu gives water to Pushpa on Ashutosh's behest. Ashutosh asks Balu to bring two cup of tea. Pushpa tells Balu that what kind of tea she wants.
Ashutosh asks her that why she wanted to meet him. She tells him that she want to join day school. He recalls that how he wanted to begin day school for elders. She asks him that will he give admission for her in his school. He tells her that she will get admission in night school. She tells him that she has lot of work to do in her house at night. He asks her to bring her school leaving certificate and mark sheet and he will see that what he can do. She thinks that she has to go to Patan to collect her certificates.
Episode ends.
Precap – Pushpa's kids asks Pushpa that why the latter going to Patan suddenly. Later, Pushpa reaches Patan.
Click to read