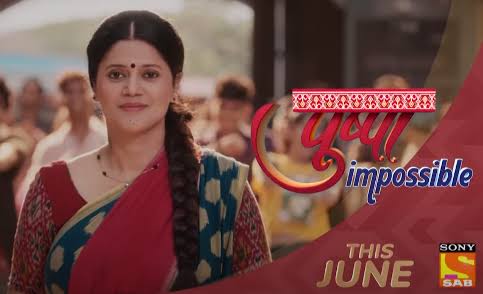 Pushpa Impossible 24th January 2023 Written Update on TellyExpress.com
The episode starts with Vasundhara saying Dharam that she was in emotionally broke down when her ex Shekhar left her and she had no one to rely on. She says that it was him who encouraged her to come out of the trauma and filled her life with colors. She says that she feels cheated by him by what happened and leaves upset. Mansi asks Vasu what's the issue that upsets her. Vasu says that she would say once the time is right. Chirag gives back the money he lent from Deepti. Deepti refuses to take it back but Pushpa urge her to get it as only then he would have the thought to give it back. She asks Chirag to concentrate on his studies too. Mansi finds her parents sleeping separate and then notices the real DNA test report. She shouts for her mother and feels betrayed. Baskar visits Pushpa who says that she needs to take an insurance that she has to pay monthly. Ashwin asks Pushpa if she can handle the expenses and Pushpa says that it's important.
Mansi is extremely furious at Dharam and leaves angrily. Dharam is about to follow her but Vasundhara stops him saying that she will explain her. Pushpa while leaving sees Bapodhara and signals him if his stomachache is fine. He reacts positively. Rashi asks about their sudden interaction for which Pushpa says that he's her friend's husband which in turn means his safety is related to her. She says it's the same for Bapodhara. Nanavati says Pushpa that he can understand her situation but also can't help her give prelim exam again as it's against the rules. Pushpa says she can understand and she didn't want it too. She says that she explained it so that he wouldn't misunderstand her that she is lethargic about exams. Nanavati says he won't and asks if Rashi knows the truth. Pushpa says she doesn't as it may affect her mental peace. Nanavati says that at one point of view she's right but on the other way it would get messy if she learns about Dharam from outside person.
Mansi recalls all the lies Dharam told to her about Dileep and cries hard. Vasu comes there and Mansi exhibits her anger to her and says that he's a cheater and she hates the man. Vasu asks how could she say that to the person who gave so much love to her all these years. In contrast to Vasu's words Pushpa shares with Deepti about how Dileep never cared about her or her children. All the positive things Vasu told about Dharam are the exact opposite of what he did with Pushpa. She says the utmost respect he has for her is the photo in the hose with a garland and says she can't pay any more respect to him. Deepti consoles her.
Precap : Mansi will ask Vasundhara that why would she want to meet Pushpa. Vasundhara will say that every coin has two sides and she need to hear the other side of the coin too. Pushpa will refuse to meet Vasundhara without knowing anything about her. Vasundhara will say that they have one thing in common and that's Dharam Raidhan.
Click to read