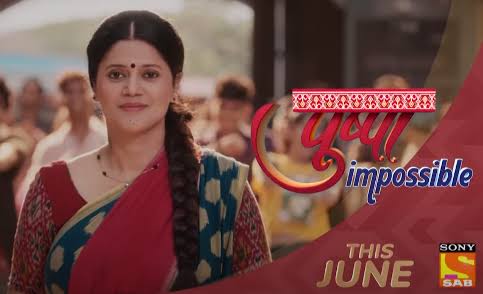 Pushpa Impossible 25th January 2023 Written Update on TellyExpress.com
The episode starts with Manish and Sonal discussing Pushpa's past. She shares with Manish that she regrets giving Deepti's hand to Ashwin. She doesn't have any problems with Pushpa, but she shouldn't have hidden the truth from them. Her husband was behind the bridge collapsed. She thinks that she shouldn't have arranged her daughter's marriage with him. Manish tells her its over now. She got married to that family. Now everything is out of their hands. Sonal tells him that the Chirag and Dileep issues are giving her a headache. She shouldn't have hidden this matter from her. Meanwhile, Dharam apologizes to Vasundhara for hiding the truth from her. He tells her that he is considering Vasundhara and Mansi as his life. It won't change until his death. Vasundhara asks him why he did hide this truth from her? She fears about their divorce. She tells him that they are still husband and wife. He shouldn't have hidden this matter from her.
Meanwhile, Pushpa shares with grandma that she reveals the truth to Deepti. She prays in the temple. Grandma consoles her. She asks her when she wore this ring? She shares everything with her. Pushpa shares her grief with her. She tells her that she doesn't know whether this ring has some meaning or not. She is wearing it for name sake. Grandma tells her that it looks good on her fingers. Pushpa tells her that she is feeling peace inside her. Grandma tells her that she is going to fast tomorrow. Pushpa assures her to cook her favourite food for her. Later, Vasundhara says to Dharam that his marriage with him is not valid. Dharam tells her that she is his wife according to him. Vasundhara tells him that she will accept it if Pushpa says the same. She needs a sign from her. Dharam tells her that she is unaware of the truth that he is alive. He wants to go back to London. Everything will be alright. Vasundhara refuses to leave without hearing from Pusha that Dharam is her husband. Dharam tells her that he will be in trouble. ACP will arrest him for using a fake passport and leave India. Vasundhara is adamant about her decision not to leave India.
Rashi is discussing with his friends about their exam. Her friends are worrying about Pushpa's exam paper. Rashi notices the new mobile phone in her friend's hand. She tells her that dad gifted this. She was surprised to hear the rate of it. She inquires Rashi. Why did she miss her first exam? Rashi tells her that she may have some reason to skip it. Later, Prarthana and Vyshali are discussing Prarthana's one-sided love with Chirag. She denies it. Chirag comes there and proposes to Vyshali. He tells her that Rohan asked him to say it to her. Chirag asks her about her Valentine's day plan. She asks him who his valentine is? He tells her that he doesn't have a valentine. Does she have a valentine? She nods to him. He teases her that no one will dare to be with her seeing Babodra's face.
Pushpa is discussing the menu with her friends. Rashi pretends like she has got period pain. Pushpa gets nervous seeing her state. She takes teacher permission to go back to home. She wishes to find the truth. Meanwhile, ACP learns from her assistant about Dharam and Mansi's trip being cancelled. Rashi returns home. She wishes to find the truth. She searched the house to find any clue what they were hiding from her. She notices her father's photo. She says to him that she is missing him a lot. She would have led a happy life with him. She notices Dharam's sketch.
Episode end
Click to read