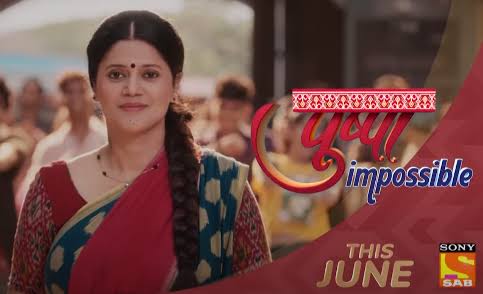 Pushpa Impossible 26th October 2022 Written Update on TellyExpress.com
The episode starts with Sonal thinking about Pushpa's words. She calls Manish and Deepti with her to go to Pushpa. She says that Neelima may be a no one for them but Pushpa is. She says she will go to court for bail hearing. Pushpa feels grateful when Sonal is ready to give witness.
Prosecutor says that Neelima attacked Ramesh in full conscious to kill him and so bail must not be offered to her. Amir Bhai keeps forth is argument that Neelima attacked Ramesh as an act of self defence. He presents Sonal's witness in court followed by Pushpa's. He refers to a previous similar case where bail was granted as an act of self defense. After hearing arguments, Judge grants condition bail for Neelima. Pushpa hugs Neelima and Neelima thanks Sonal. Pushpa gets elated.
Pushpa gets warm welcome from chawl people and Pushpa hands over her house key to her. Neelima takes it and opens the door. She hallucinates Ramesh over there and runs out immediately. Ashavari understands her fear and takes her home with her. Prarthana pesters Pushpa about what decision bapodhara would take. Susheela scolds her for taking Chirag's side in front of everyone. Prarthana reminds her that she did the same with Pushpa.
Susheela asks her to recall the punishment she faced for the same. Bapodhara comes home and taunts Prarthana. He says that he's ending her to his hometown after Diwali shocking Prarthana. She's worried about her studies but Bapodharas says that she must have thought about it before going against him for Chirag.
Neelima thanks Pushpa for all her help and they have an emotional moment. Chirag gets shocked learning about Bapodhara's decision from Prarthana. He consoles her saying that he might be just scaring her. Prarthana gets angry and says that h even bought the tickets to hometown and so she came to him for finding a solution. However she gets angry that he's just making excuse and leaves upset. Pushpa shares with Kaku about Neelima issue who comforts her. Kaku gets doubtful when she couldn't speak with the kids. Mithali calls Varsha and Kaku attends it. Mithali wishes her for Diwali and says that they are dancing and enjoying a lot in hostel. Kaku gets shocked hearing it.
Precap : kaku wil share her doubts with Pushpa. Pushpa will call Mithali like a third persona nd they will learn that she's in hostela nd not at home as claime by Varsha.
The episode starts with Kaku saying Varsha that she wants to invite the children for Diwali. Varsha tries refusing saying that they want to spend with their friends but Kaku is adamant. She says that she herself will invite the kids and asks her to call them. She asks for number while Varsha says that she gave her a wrong number. Both she and Pranav think of a way to escape. Ashwin consoles Chirag and Chirag asks if he got convinced by Deepti. He teases that he's fearing Deepti but Ashwin clears that it's not fear but his love for her. Chirag is glad that Deepti Bhabhi sides him. Ashwin sees Chirag upset about Prarthana and asks if he got any news. Chirag says no but is worried for her. Ashwin comforts her.
Bapodhara visits Ramesh in hospital. He makes excuse with nurse to meet him as his best friend. The nurse falls for his acting and lets him inside the ward. Bapodhara pretends like he's speaking with concern when he actually expresses his happiness that he has fell into coma. He says that he is gone forever and the other is in coma. He says that he wishes that he never comes out of coma. Pushpa is practicing a ritual and Chirag asks about it . Pushpa explains about the rituals. Chirag is bursting rocket cracker when Pushpa recalls hurting Dileep with a rocket cracker and escaping with it. She laughs remembering that.
Click to read