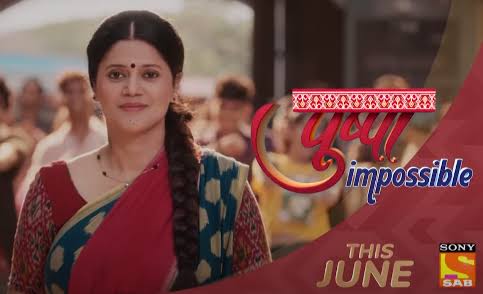 Pushpa Impossible 27th June 2022 Written Update on TellyExpress.com
The episode starts with Ashwin coming to office and Deepti stops him. She hugs him and gives him the happy news about her promotion. Ashwin also gets happy hearing it. Deepti gives the credit of her success to Ashwin who says that it's a team work. She says about organising a party for the same and invites Ashwin for it. Ashwin also agrees to come while Deepti jokes that her parents will be showing off their talented son in law. They spend some happy moments together. Pushpa is working in kitchen while Rashi wonders why would Pushpa need her mark sheet and is sure something is off.
Pushpa chats with Chirag when Ashwin comes there. He says about Deepti's promotion and thanks her for deleting his presentation which is why they come up with a better one. Pushpa gets happy hearing it. Pushpa thinks that only Kaku can fill the form for her. Pushpa says that she's going to Kaku's house for giving food. Chirag jokes that she would be ready with her story for Kaku. Pushpa says their relationship is unique and Kaku is someone who needs people's love. Rashi thinks that Pushpa would definitely share the real reason with Kaku and follows her.
Pushpa gives the form to Kaku android asks her to fill it. She says about giving certified to Nanavat and Kaku feels happy for her. She starts filling the form and Pushpa worries whether Ashwin's alliance would suffer because of her wish. Kaku says she has tolerated enough for her children and she needs to do something for herself too. She starts filling the form and adds that before Sonali's house she needs to think about Rashi's reacting regarding her joining the same school as hers and the same class. Rashi hears it and gets angry.
Nanavat is in the meeting with the trustees and says about an elder person willing to join their school. He gives Pushpa's marksheet and calls her in.
Rashi's class teacher with whom Pushpa fought during parent teacher meeting immediately identifies her. She is outraged that it's Pushpa and inked refuses. She says she can't even understand English and asks how could she compete with the students. She sends Pushpa out and says that they would be answerable to student's parents who would definitely not like her studying with her children and it would cost them a lot of trouble. Nanavat comes out and says Pushpa that as expected they refused to give her a Chance. Pushpa feels bad but Nanavat says that sometimes she needs to speak from her heart over his own knowledgeable talks to convince them. He says he would be schedule another meeting with them so that she van keep her points. Pushpa leaves thanking him but doesn't even know what's a presentation.
At night, Rashi is checking the qualification for sslc exam and is relieved that Pushpa doesn't satisfy the required age bar. However she's worried about Nanavat. Pushpa is waiting for Nanavat's message and goes to sleep. Rashi sees Nanavat's message about meeting scheduled the next day at 10:30 am and deletes it. She apologies to her mother in her mind that she can't face so much embarrassment of her studying in the same class as hers. Next day morning, Pushpa searches for her phone but Rashi takes it away with her to school. She finds the whole premises filled with trustees cars and is glad that she took Pushpa's mobile with her. Nanavat keeps calling Pushpa but Rashi cuts the call.
Precap : Rashi will confront Pushpa about her trying to study at this age and that too in her school. She will shout whether she's out of her mind. Pushpa will ask whether their problem is her being uneducated or her trying to study.
Click to read