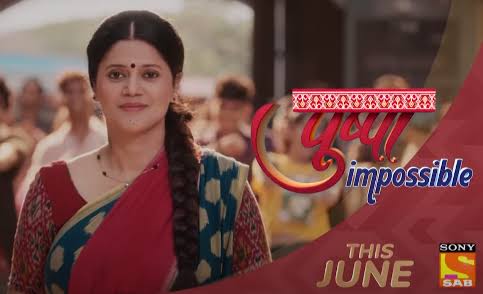 Pushpa Impossible 28th June 2022 Written Update on TellyExpress.com
The episode starts with Ashutosh Nanavat telling Trustees that Pushpa will tell you guys why she wants to study then you guys can decide and your decision is final. Pushpa searches for her mobile. Trustees ask will she come. Nanavat agrees. Ashutosh Nanavat calls Pushpa. Rashi disconnects the call. Sam sees her with the phone and asks if it's her new phone. Rashi tells him why she gets her mom's phone. Sam says she should feel ashamed for her thinking. Rashi says you can't understand my situation as you're not in my situation.
Pushpa says she doesn't even remember Nanavat's number. Trustees tell Nanavat that for Pushpa education is not important that's why she didn't come on time. They leave for their classes. Raashi sees everything and deletes his calls and messages. Paddy teases Prarthana. Chirag saves Prarthana from Paddy. Prarthana thanks him. Pushpa decides to meet Nanavat. Raashi returns home and stops her from meeting Nanavati and tells her that she will search her phone. She handovers the phone to her mom. Pushpa sees her phone and was surprised to see she didn't get any calls or messages.
Ashutosh Nanavati comes to Pushpa place. Local people get shocked seeing he can't for Pushpa. Pushpa meets him. Ashutosh tells her that he needs to talk with her. Pushpa says Rashi is at home and takes him aside to talk. Local people discuss about it. Ashutosh asks why she didn't respond to his messages. Pushpa tells him that she didn't receive any messages and tells him that she lost her phone. Ashutosh looks on and tells her that trustees are angry with her but don't worry and she can come to attend a meeting with trustees tomorrow at 10 am. She agrees and asks him to tell her his number for emergencies. He tells his number. Pushpa remembers it spontaneously. Nanavati thanks her for tea and biscuits.
Sonali asks Deepti to see more sarees and jewellery. Deepti asks them to see it telling she is getting late. Manish tells he will hire a wedding planner. Deepti tells them she wants a simple wedding. Manish and Sonal say it's their honor to do her wedding grandly. He asks her to not snatch their right. Deepti gets emotional and tells her parents that she loves them and she goes to attend her promotion party.
Pushpa shows Kurta to Ashwin, she brought for Deepti. He tells her Deepti will like it. Pushpa places her phone on the table checking her message. Raasi sees her phone. Pushpa catches Raasi. Ashwin asks what happened. Pushpa says she will talk later. Rashi asks her to talk in front of everyone and tells them that Pushpa wants to study in her school. Pushpa says she will talk later and goes out. Raasi confronts Pushpa about her trying to study at this age and that too in her school and questions why she lied. Colony people hear everything. Pushpa asks why she hid her mobile. Rashi shouts whether she's out of her mind.
Episode ends.
Precap – Ashwin says Raasi can't bear more insults. Pushpa will ask what about insults she is facing from others? She asks them to divide whether their problem is her being uneducated or her trying to study.
Click to read